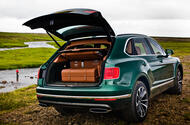 Bentley and Mulliner cater for the well-heeled outdoorsman with a Fly Fishing special edition of the Bentayga. It's a mere £80,000 pricier than the standard car
Bentley Bentayga owners can now purchase a fly fishing set made especially for their car.
Famed Bentley coachbuilders Mulliner produce the car, the 'Fly Fishing' part of which comprises four hand-made rods and a host of fly fishing paraphernalia, contained in a luxurious three-piece trunk set.
The fishing set is comprehensively stocked; a full fly fishing kit is fitted, including cotton, hooks and feathers, as well as reel cases, a fly-tying vice and all the …read more
Source:: Autocar