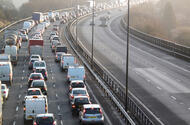 Manufacturers and transport agencies have been urged to collaborate to help develop and integrate autonomous technology
Autonomous cars will increase traffic congestion unless the industry collaborates to develop the technology, according to a new study.
A white paper published by maps provider HERE and automotive consultancy company SBD urges manufacturers to move away from an "each-to-their-own" approach and start working towards what it calls Collaborative Autonomous Cars.
This would include more cooperation between autonomous car manufacturers to establish vehicle, road network and infrastructure data exchanges in conjunction with local, state and national transportation agencies.
According to the white paper, there are two main …read more
Source:: Autocar