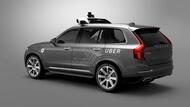 Uber has been testing autonomous vehicles since 2016
Uber-operated car causes first death attributed to a self-driving vehicle
An autonomous car operated by Uber Technologies has crashed into and killed a pedestrian in Arizona, USA.
Police in the city of Tempe said that the car was driving itself with an operator behind the wheel when it struck a woman crossing the road with a bicycle. The woman later died in hospital from her injuries.
«A female walking outside of the crosswalk crossed the road from west to east when she was struck by the Uber vehicle,» Tempe Police said in a statement.
Why do people think autonomous cars are scary?
Uber said on Twitter that it is «fully cooperating» with the Police investigation and has expressed condolences to the family of the victim.
Uber has halted autonomous vehicle testing, which it was operating in Phoenix and Tempe in Arizona, as well as other cities in the US including Pittsburgh, San Francisco and Toronto. The tests have been running since 2016 without major incident until now.
Uber CEO Dara Khosrowshahi said via his twitter account «We're thinking of the victim's family as we work with local law enforcement to understand what happened".
Although there have been crashes involving self-driving vehicles, including a well-documented incident involving a Google autonomous car in 2016, today's incident is thought to be the first involving a death.
More content:
Renault Symbioz autonomous prototype first drive
Volvo to supply 24,000 self-driving XC90s to Uber
Source:: Autocar