Development on debut electric hypercar steps up with new hires from Porsche and Formula One, ahead of Geneva 2019 public reveal
Automobil Pininfarina has released more details of the forthcoming PF0 hypercar, confirming it will use powertrain and battery technology supplied by electric hypercar maker Rimac.
The fledgling car maker claims the PF0 hyper GT will arrive with power and torque equal to 1900bhp and 1700lb ft, for a potential top speed of over 250mph. It will be capable of going from standstill to 62mph in "less than two seconds", while delivering a "potential zero emissions range of over 300 miles".
Those figures tally with Rimac's recently revealed C_Two, which produces 1887bhp from four electric motors and can achieve 0-60mph in 1.85sec. The partnership will see Rimac provide its battery and drivetrain expertise through both hardware and software.
"We are very excited about this challenge," Rimac founder and CEO Mate Rimac said of the partnership. "This partnership is a big milestone for both companies and we are looking forward to bringing this incredible machine to life together."
The announcement follows an Autocar scoop earlier this year that revealed the PF0 would use modular underpinnings co-developed by the Croatian electric supercar maker and the Mahindra Racing Formula E team.
Speaking to Autocar, Pininfarina CEO Michael Penschke said "there are not too many in the industry who can do package solutions including high-performance battery packs and cooling, as well as EV motors that have up to 500kW outputs.
"There were three or four companies we could have looked at, but it was Rimac that surfaced. They have done the Koernigsegg Regera, the Aston Martin Valkyrie, and the investment from Porsche created a lot of confidence for us."
Automobili Pininfarina's management team was bolstered with several new hires to coincide with the powertrain news, with former Porsche and Faraday Future engineer Dr Christian Jung becoming chief technology officer, and ex-Bugatti engineer Peter Tutzer becoming senior technical advisor.
Jung was previously engineering project lead on the Porsche Mission E, while Putzer played an integral role in the development of the Bugatti Veyron.
Former F1 racing driver Nick Heidfeld has also joined the team as development driver, ahead of the start of a vehicle dynamics program in early 2019.
"We have a specific strategy in place to develop road car technology inspired by motorsport," Pininfarina CEO Penschke said. "Nick Heidfeld has more experience racing in Formula E than any other driver and we are delighted that from next year he will help deliver race-bred, electrifying performance in the PF0."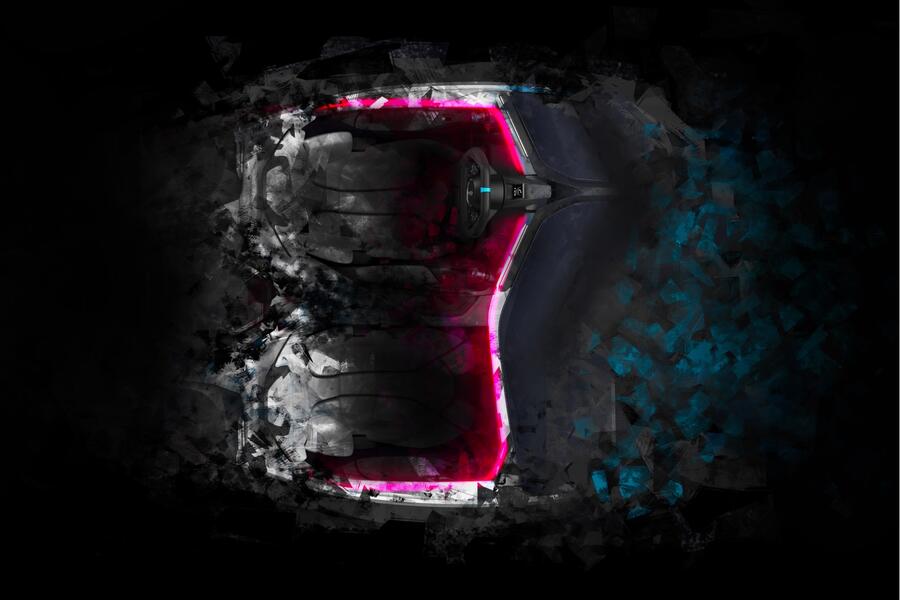 The PF0 is the first production car solely branded as Pininfarina from the renowned Italian design house. It was recently presented in design model form to buyers at the Pebble Beach Concours d'Elegance, and is set to be fully revealed at the 2019 Geneva Motor Show.
Perschke told Autocar the model was "80-85% complete", with aerodynamic tweaks to be finalised now the powertrain technology has been confirmed. "What will not change is the timelessness of the design, its beauty and rarity."
A maximum of 150 examples will be produced and sold globally after it launches in 2020. A significant portion of the North American allocation has already been reserved by customers following its Pebble Beach debut.
Previously released sketches have previewed the car's all-carbon design from the rear and interior, showing a minimalist and driver-focused layout for the two-seater. A video (below) shows company chairman Paolo Pininfarina describing the car's long-awaited launch as part of «an American dream».
Anand Mahindra, group chairman of Mahindra, which owns Pininfarina, previously said that the hypercar will draw "upon the pedigree and design vocabulary of the Pininfarina aesthetic heritage» to «develop a rare collector's item that only a handful of connoisseurs will ever own».
He said that the PF0 will «be an innovative and pioneering product powered by high technology» and combine «power, beauty and high-end EV technology».
Further details have yet to be revealed, but the production car will be priced to compete with the hypercar elite, including the Bugatti Chiron. It'll act as a halo product, being the first of several all-electric models in Automobili Pininfarina's product plan.
SUVS TO FOLLOW
Previously referred to as Project Montana, Automobili Pininfarina will follow its top model (which could take influence from the H2 Speed, pictured below) with three SUVs that are all set to arrive within five years.
The biggest, codenamed PF-One, will be a high-performance answer to the Lamborghini Urus. The other two will be rivals to the Porsche Cayenne and Porsche Macan respectively. All will use their own version of the same modular underpinnings.
The fastest SUV will offer around 940bhp from a battery pack of about 140kWh, enabling a 0-62mph time of less than three seconds. Its smaller SUV siblings are likely to use lower-output versions of the same powertrain but their performance will still be at the sharp end of their segments.
An insider told Autocar: "Pininfarina has always made very special cars, but usually for other people. When we have sold cars ourselves, like the Pininfarina Sergio [of which six were built in 2015 and sold for a reputed $3m each], we have always done very well. It is not difficult to see what the next step should be. The cars will be exclusive and very beautiful."
A source said that the Pininfarina car brand will be given an initial investment of $100 million (about £71.6m) from Mahindra to fund the creation of its model range.
Mahindra intends to invest a total of about £358m into Automobili Pininfarina over five years. The new brand will work independently of its parent's EV division, Mahindra Electric, with operations based in Europe.
FROM DESIGN HOUSE TO MANUFACTURER
Pininfarina's new car brand comes after Paolo Pininfarina said at the 2018 Geneva motor show that he hoped the dream of his grandfather, company founder Battista Farina, to build cars would "come true in the not-distant future".
"Establishing Automobili Pininfarina as a leading sustainable luxury brand is our strategic vision and will …read more
Source:: Autocar