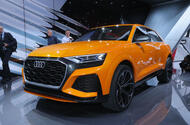 The Q8 Sport Concept previewed a forthcoming hot SUV model; latest patent suggests it'll be an RS model
Audi has patented the RSQ8 name in Europe, backing rumours a forthcoming super-SUV model will be launched to sit above an upcoming SQ8.
The model would top the Q8 range, which is due to make production in 2018. The design of the regular car will take influence from the Q8 Concept.
Unlike the SQ8 and its anticipated petrol-electric drivetrain, previewed by the 469bhp system in the Q8 Sport Concept of the Geneva motor show, the RSQ8 is predicted to have a heavily fettled version of Audi's twin-turbocharged 4.0-litre petrol V8.
The SUV's 90deg engine should offer similar performance to the 4.0-litre motor in the Audi S8 Plus, which produces 605bhp and 516lb ft. This would rank the RSQ8 ahead of the 4.4-litre V8-powered BMW X6 M, which produces 567bhp, and the twin-turbocharged 5.5-litre V8-powered Mercedes-AMG GLE 63, which delivers 549bhp.
The Q8 Sport Concept's 4.7sec 0-62mph time suggests that the RSQ8 model could hit the mark in little more than 4sec. The X6 M, for example, takes 4.2sec.
Autocar has contacted Audi for comment on the RSQ8 but is yet to receive a response.
Source:: Autocar