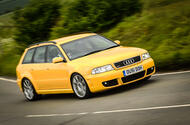 Estate body means it's not only quick, but also practical
The first Audi RS4 packed a 375bhp V6 and all-wheel drive into an everyday estate body, making it a fast and usable second-hand choice
«Not a lot": no, not a Paul Daniels impression, but what seasoned mechanics say when asked what goes wrong with the original Audi RS4.
After a while it gets tedious. Yes, there's a problem with some camshafts wearing (no one knows why), the intercooler and oil cooler hoses can fail, causing a sharp reduction in performance, and the suspension can become noisy. Some alloy wheels were soft and buckled but were replaced under warranty.
And, er, that's it. Not a lot, then, but what is a lot is the cost of getting a tired RS4 back to rude health. Then again, given the way prices have been creeping up in the past year or so, it's one worth paying. Martin Pearse of MCP Motorsport reckons 98% of the performance cars he's sold in the past few years have doubled in value. He's got a list of them on his website, although the RS4 doesn't appear to have doubled just yet. He's showing a low of £12,000 and a current price for the same model of £19,000. MCP Motorsport itself just happens to be advertising two RS4s with around 120,000 miles apiece for £19,750, so it depends how much faith you put in MCP's assessment of the RS4's current market value.
Still, we spoke to enough people to know MCP Motorsport's pricing isn't off the pace, and in any case, all the ingredients for rising prices are present in the venerable RS4, most notably rarity, desirability, performance and quality.
The model, codenamed B5, was launched in 1999 in estate form and was on sale for just two years. A little over 500 cars came to the UK. Pumped-up wheel arches, lairy colours and a dose of estate-car practicality triggered a showroom stampede, but what had punters signing on the dotted line was 0-62mph in 4.9sec, courtesy of a 2.7-litre Audi V6 re-engineered by Cosworth to produce 375bhp.
Torque steer? Not a chance, thanks to Audi's quattro driveline with Torsen diff that split torque fair and square between front and rear. Turbo lag? Just a bit, but that's how things were back then. Folk just learned to sit back and brace themselves for the main event, in the RS4's case from 3000rpm all the way to 7000rpm.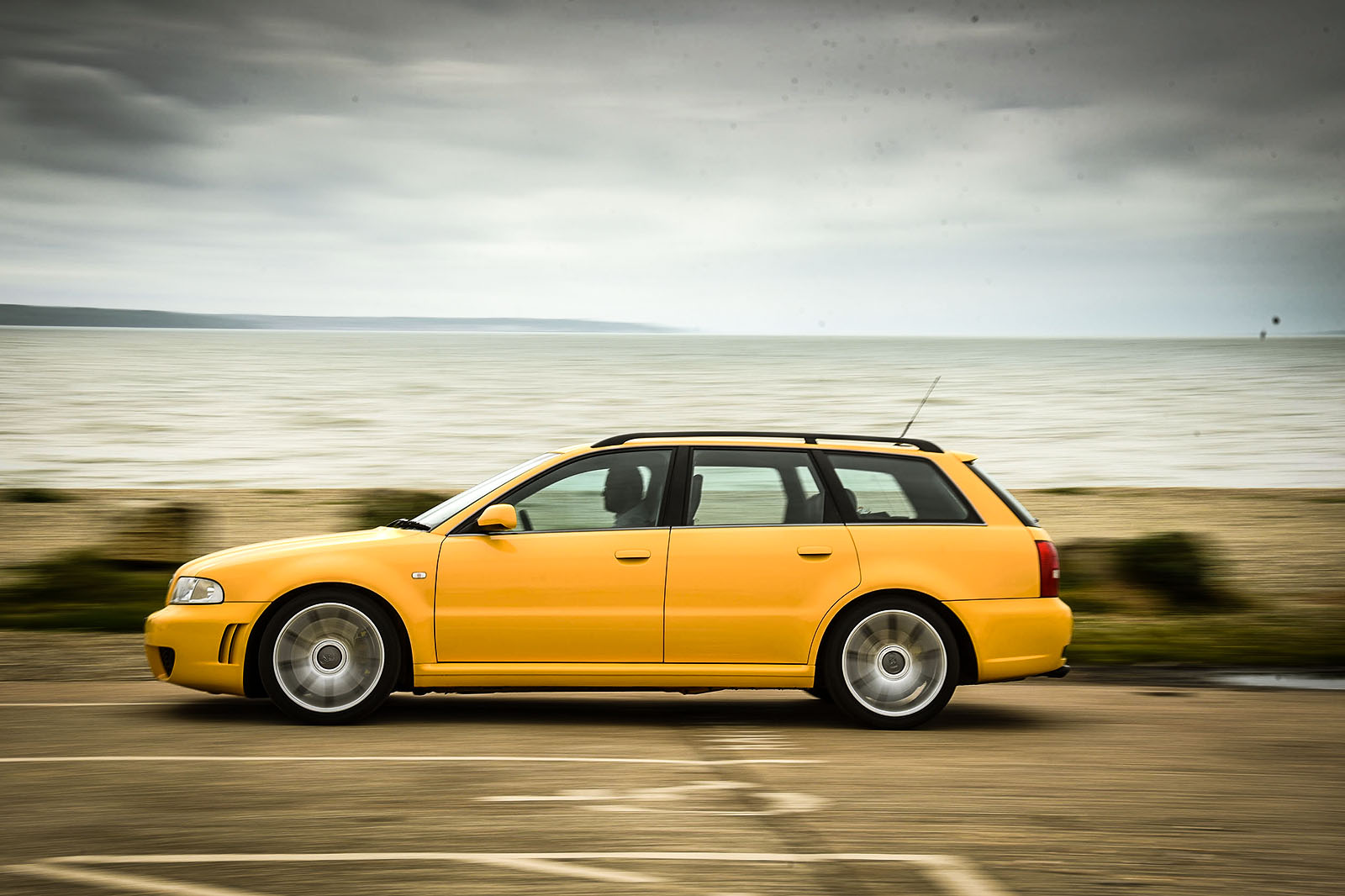 The only transmission was a tough six-speed manual, which is smooth and deliciously mechanical. The suspension was hard enough to loosen fillings if not the interior trim, which, on most examples, remains firmly anchored. The seats were thinly upholstered Recaros, which is what enthusiasts back then expected. Standard equipment included alloy wheels, air-con and heated seats, to which many buyers added a sunroof and primitive satellite navigation.
The engine will take up to 600bhp, so many RS4s have been tuned. Larger wheels are popular, too. Avoid both. Instead, go for a straight and original car with a solid service history. And if you a find good one at a fair price, buy it, because it could be dearer tomorrow.
An expert's view…
MARK MCMANUS, MDM TECHNIK
"We've just completed a ground-up refurbishment of an RS4 B5. The customer spent around £8000, but given what the car had just cost him to buy (it hadn't been maintained well) and the way prices are going, it was money well spent. We did the lot: cambelt, water pump, rebuilt the turbos, renewed the suspension. It had been misfiring on cylinder five. When we drained the oil we found small bits of metal in it. We took the heads off the engine and the side walls of the hydraulic tappets were scored. We polished those out, polished the buckets and re-cut the valves. On the test drive I was amazed by how it pulled so well and still felt so tight."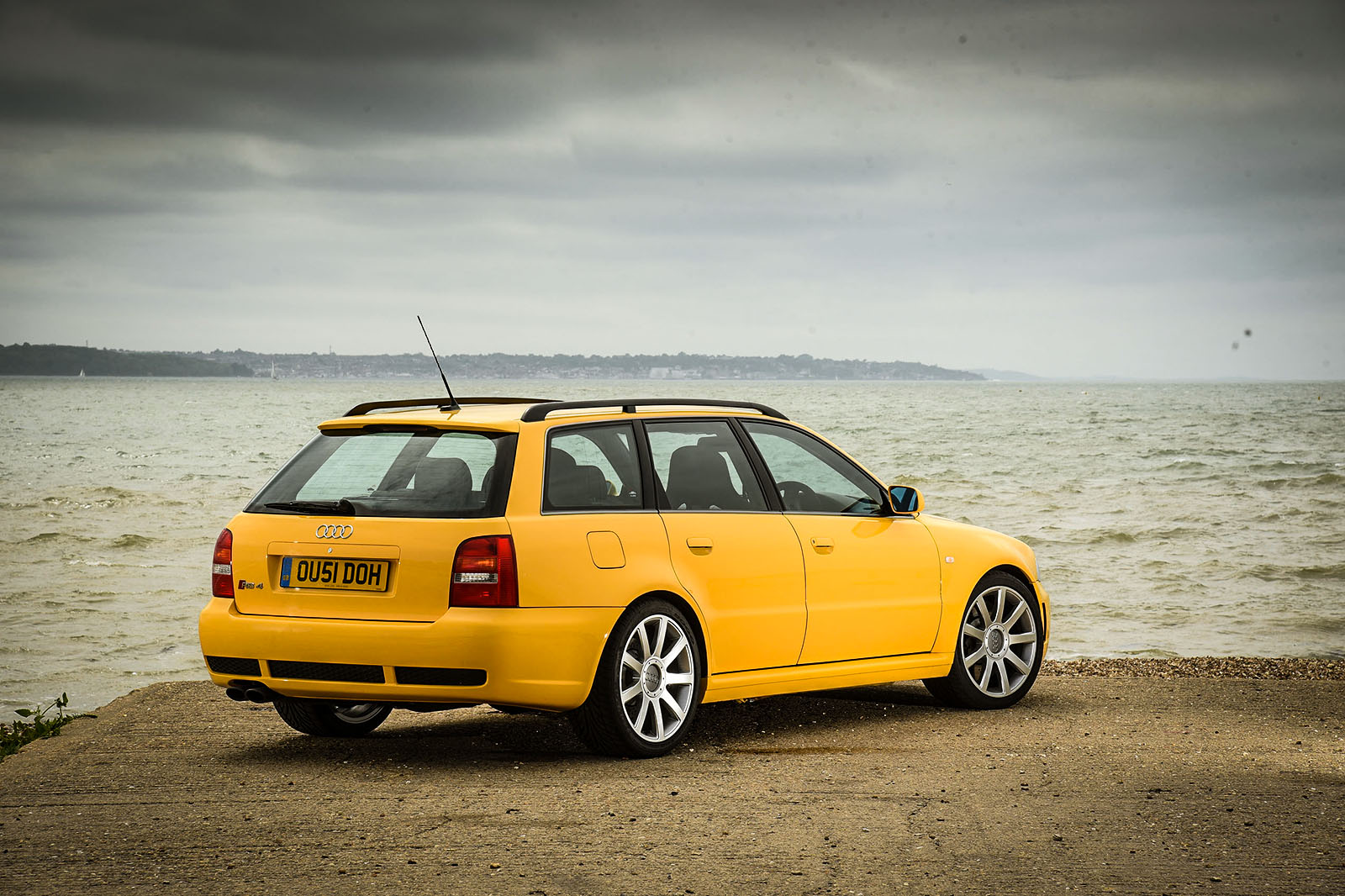 Audi RS4 (B5) problems
ENGINE
There was an issue with accelerated camshaft wear that got a lot of attention, but was confined to only a few cars. Check for misfiring or lift the heads for a look-see. Later 2001-modelyear cars were as susceptible as early 1999 ones. Failed mass air flow sensors, boost leaks and leaky intercooler and oil cooler hoses are more common and will affect performance. A sign of boost leaks is a slight whistling noise under acceleration. The Borg Warner K04 turbos were generally quiet so if it sounds like an Impreza's blower, you've got a problem. Check for warning lights indicating secondary air pump and exhaust gas temperature problems.
TRANSMISSION
The six-speed manual gearbox is tough, but feel for notchy synchros and a slipping clutch on take-off.
WHEELS
Buckling was an early issue and Audi replaced wheels free of charge, so you're unlikely to experience the problem. Kerb damage is more likely.
SUSPENSION
It's a heavy car (1620kg) so you can expect upper and lower arm bushes to be feeling the strain. Dampers and coils may need at least some attention, if not replacement.
BODYWORK
Any rust suggests poor accident repair. Underside should be protected by a thick carpet of underseal. Check for parking damage to the wheel arches.
THINGS TO DO
The cambelt needs changing every 60,000 miles. Unless you've cast-iron evidence it's been done, it's best to have it renewed, along with the water pump. Have the engine dyno tested to check if it's failing or has been chipped or modified beyond its comfort zone.
Also worth knowing…
Regardless of age, but as long as it has done less than 100,000 miles, you can buy a 12-month Audi warranty at audi-extendedwarranty.co.uk. Enter the car's age and current and forecast mileages, then choose 'all' or 'selected' component cover and your excess. Only unmodified cars are accepted.
Audi RS4 (B5) prices
£16,000-19,995
The cheapest private-sale RS4s with over 150k miles but full service history, and some major rebuild/renewal work. Lower-mileage dealer-sale examples (circa 120k miles) closer to £20,000
£20,000-22,995
Still high-mileage RS4s with full histories and lots of loving attention, but far from showroom perfect.
£23,000-26,995
Lower-mileage cars …read more
Source:: Autocar