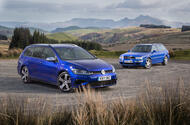 Audi RS2 Avant vs Volkswagen Golf R Estate – comparison
The RS2 Avant put the room into vroom in the 1990s and now its stablemate, the Golf R Estate, is doing the same today. Can the new-age VW eclipse Audi's old hand?
These two cars are separated by little but time.
Just nine horsepower. Seven pounds feet of peak torque. Two kilograms of unladen mass. They share precisely the same manufacturer claim for standing-start acceleration: 4.8sec, 0-62mph. And yet one of these two founded the automotive market niche that, decades later, the other has graduated into: that of the performance-tuned estate.
One of these cars was revered; given an instant and permanent place in fast-car folklore. It became the answer to a pub quiz question that anyone who read car magazines in the 1990s remains, to this day, ready to answer. The other, hidden in the shadow of its five-door sibling, has scarcely been given a fraction of the attention it may deserve.
Time to see where the credit is really due in the cold light of 2017. Has the Audi RS2 Avant, Ingolstadt's fabled supercar-slaying original firebrand shooting brake, finally been upstaged by another big-hitting, even more affordable alternative: the latest Volkswagen Golf R Estate?
The RS2 Avant cost almost £46,000 when it was launched in 1994. At the time, a Porsche 911 cost almost exactly the same. If Audi introduced an equivalent model today, I reckon it'd have to be a 600bhp, £100,000 car.
And even then, it wouldn't have the RS2's pioneering status. This was the original 'RennSport' Audi: a limited-run toe-dipping exercise with wheels, brakes and tyres taken from a Porsche 968 Club Sport. The five-cylinder engine under its flatnose bonnet had been donated by the venerated Quattro coupé and then boosted to new heights of potency. And when the RS2 underwent the Autocar road test, it memorably proved what a fast 4×4 could do by out-launching the mighty McLaren F1 from rest to 30mph.
Twenty-three years is plainly a long time – and yet it also doesn't seem nearly long enough to me to have made such a celebrated giant-killer vulnerable to a giant-killing itself by a modern hot hatchback that has effectively had a kitchen extension. You couldn't ask for a better example of the pace at which the car industry moves, though. The Golf R isn't even the quickest hot hatch on the market – but it is one of the few that combine the availability of an estate bodystyle with four-wheel drive and a power output that exceeds what feels increasingly like the current mark of respectability for the affordable performance crowd: 300bhp.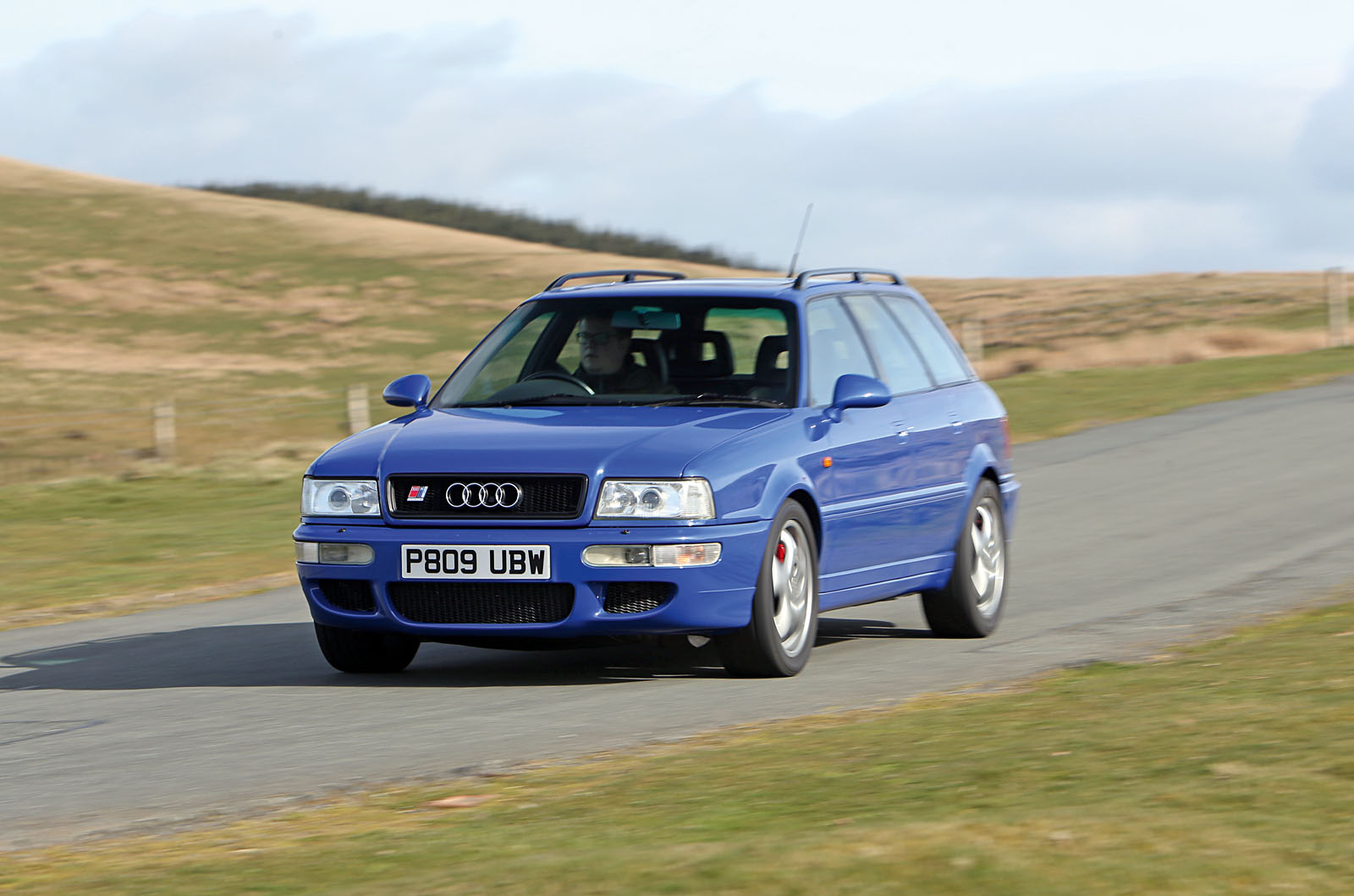 Before we get stuck in, we can agree that chucking any 20-yearold performance car in with a new one and using the latter as a rod with which to beat the former is a fundamentally unjust thing to do – so I'll try not to do it. The greatness of the RS2 Avant is not at stake today. That was defined in reference to its contemporaries. But we can at least satisfy ourselves that the particular Audi we're sampling is a representative example of the car as Audi (and Porsche) created it, rather than as variously abrasive time and use might have otherwise left it. Owned by Audi UK since new, having done fewer than 2500 miles in that time, and still on the Dunlop SP Sport 8000 tyres and original suspension consumables that it rolled out of the factory with, 'P809 UBW' might be the most valuable RS2 in the country – if it were for sale. It's not, of course: it's here, in front of me, ready for one of the handful of occasions each year when it'll actually get exercise. Yum.
Only one of these cars has silver door mirrors, and it's not the Audi. Silver door mirrors have become a hallmark of modern Audi RS cars, and one copied by so many. The irony is that the original Audi RS's mirrors don't need a silver coating to be drippingly cool: they were donated by the 993-generation Porsche 911.
Even though it has a taller glasshouse, smaller wheels and longer overhangs, the RS2 blows the Golf R into the weeds for kerbside appeal. The Audi's proportions are plainly so much better, its details that much more distinctive – the crowning glory being that deliciously 1990s full-width reflector bar on its curvy rump, which makes following the RS2 like having a staring match with Star Trek's Lieutenant Commander Geordi La Forge in his off-duty Sergio Tacchini shell suit.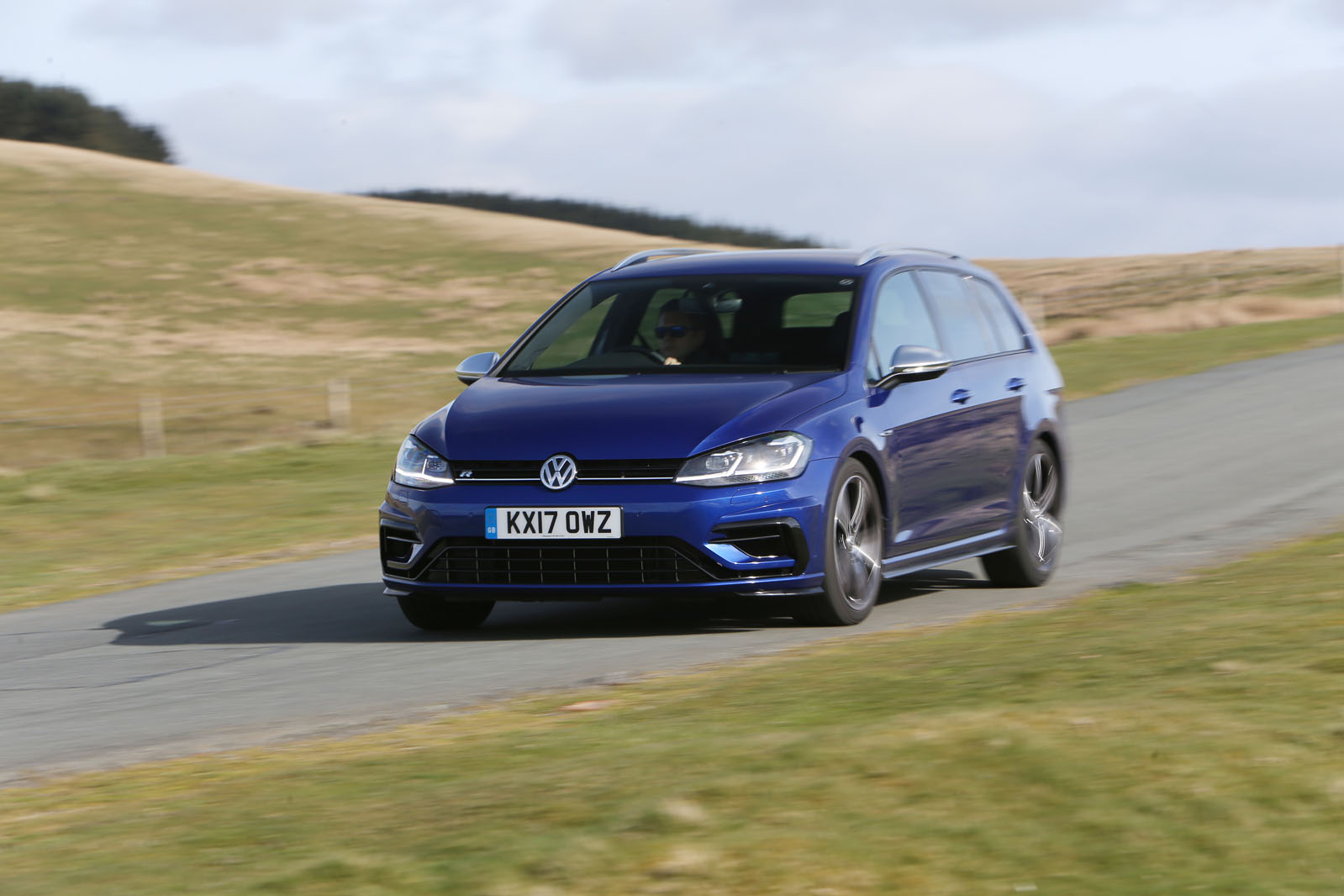 Time for a burble. A really great real-world performance car ought to be fun at low speeds as well as high ones. The RS2 is a joy to simply punt around. Its controls have supreme connected feel. The accelerator, in particular, makes you realise how inauthentic modern by-wire accelerators have become. Long of travel, oily slick and smooth, the Audi's pedal is a direct and tactile attachment to the throttle body of the car's five-cylinder engine. It doesn't store up a disproportionate amount of response for the top half of the pedal travel. It is mostly tuned to make the car easy to drive, and to render the turbo surge of that five-pot Quattro motor possible to modulate and manage. If you want full throttle, you'll need full pedal. The last half an inch into the give of the footwell carpet makes a big difference.
By comparison, the Golf R is a relatively ordinary thing to drive slowly. The VW's steering has greater weight and directness than the Audi's but a fraction of the feedback. Its DSG transmission simply requires less investment of you and its engine, although effusive for a modern four-cylinder, tries to make up for its relative shortage of mechanical richness and charisma with electronic speaker-born imitation engine noise. You don't need to be 50 yards off the bumper of a warbling RS2 to realise what a fool's errand that is.
There again, you might care less about how …read more
Source:: Autocar