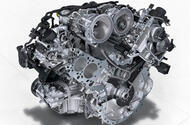 Recently revealed by Porsche in the new Panamera, Audi is set to introduce the new turbocharged V6 in four new performance cars, including a new R8 model
The Audi R8 will gain a new, entry-level version that'll use a twin-turbocharged 2.9-litre V6 petrol engine recently unveiled by Porsche in the latest Panamera.
The 90deg unit will also be used in the RS4, RS5 and soon-to-be-confirmed RS Q5 models. It has been developed in a joint venture by Audi and Porsche as part of a new modular engine family known under the working title KoVoMo.
The engine has been …read more
Source:: Autocar