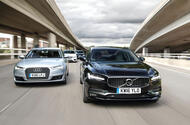 In the real world, long motorway miles often lie between where you are and where you need to be. So which is the best distance-shrinking exec?
The Volvo S90 battles it out with Mercedes-Benz E-Class, Lexus's petrol-electric hybrid GS300h and Audi's A6 2.0 TDI Ultra in our execuctive car showdown.
Frequent visitors to mainland Europe rarely pass up the chance to bemoan the relative state of the UK's motorway network, in my experience.
Compared with the paid-for indulgence of French autoroutes or the distance-munching majesty of much of Germany's derestricted autobahns, the overworked and undervalued grey sprawl of …read more
Source:: Autocar