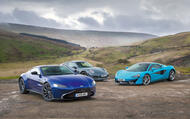 One particular passer-by who took an interest in all three cars didn't bat an eyelid when told the Vantage's £121,000 asking price. "It looks like the money," he said
So is the new Aston Martin Vantage better than a Porsche 911 – or a McLaren 540C? Aston boss Andy Palmer wants to know, and we're sure you do too
Does the super-sports car actually exist? Is it really a thing?
After spending a couple of days driving three new cars brought together under that banner, I have my doubts. The super-sports car may be a figment of the car industry's imagination, I reckon; or a clever bit of profit-generating sleight of hand, more likely.
Sometimes group tests are like this. You gather three new cars together that share a broadly common price point and mission statement and you expect to find them similar; but driving them back to back at length only makes you more aware of how different they are. Of how much separates them not just in terms of motive character and dynamic appeal, but also how different are the reasons you'd buy them and the ways you'd use them. And so it is when you try to force a McLaren 540C, a Porsche 911 Carrera GTS and the new Aston Martin Vantage into the same shopping basket. They flatly refuse to share.
It may seem odd to suggest that one of the most important growth niches in the whole performance car market may be an imagined one; super- sports cars have sold rather well for the last decade or so, after all.
The segment was famously pioneered by Porsche back in the 1970s, and while it now contains cars as different as the Audi R8, Honda NSX and Nissan GT-R, it's still known by many as the '911 Turbo' class because of that car's enduring popularity.
Weissach's key realisation way back when was that there were plenty of customers who wanted something better than a 911, to use in precisely the same way as a 911. The thing is, after 43 years of trying, many would say that Porsche has failed to make the car it set out to. A Turbo is certainly a faster 911, after all – but has it ever been a demonstrably better sports car?
Now that both four-wheel drive and turbocharged torque are widely available throughout the 911 range, the answer to that question seems to me more debatable than ever. That is, however, just one of the reasons I'm using to excuse the fact that you won't be reading about the Porsche 911 Turbo over the course of this test.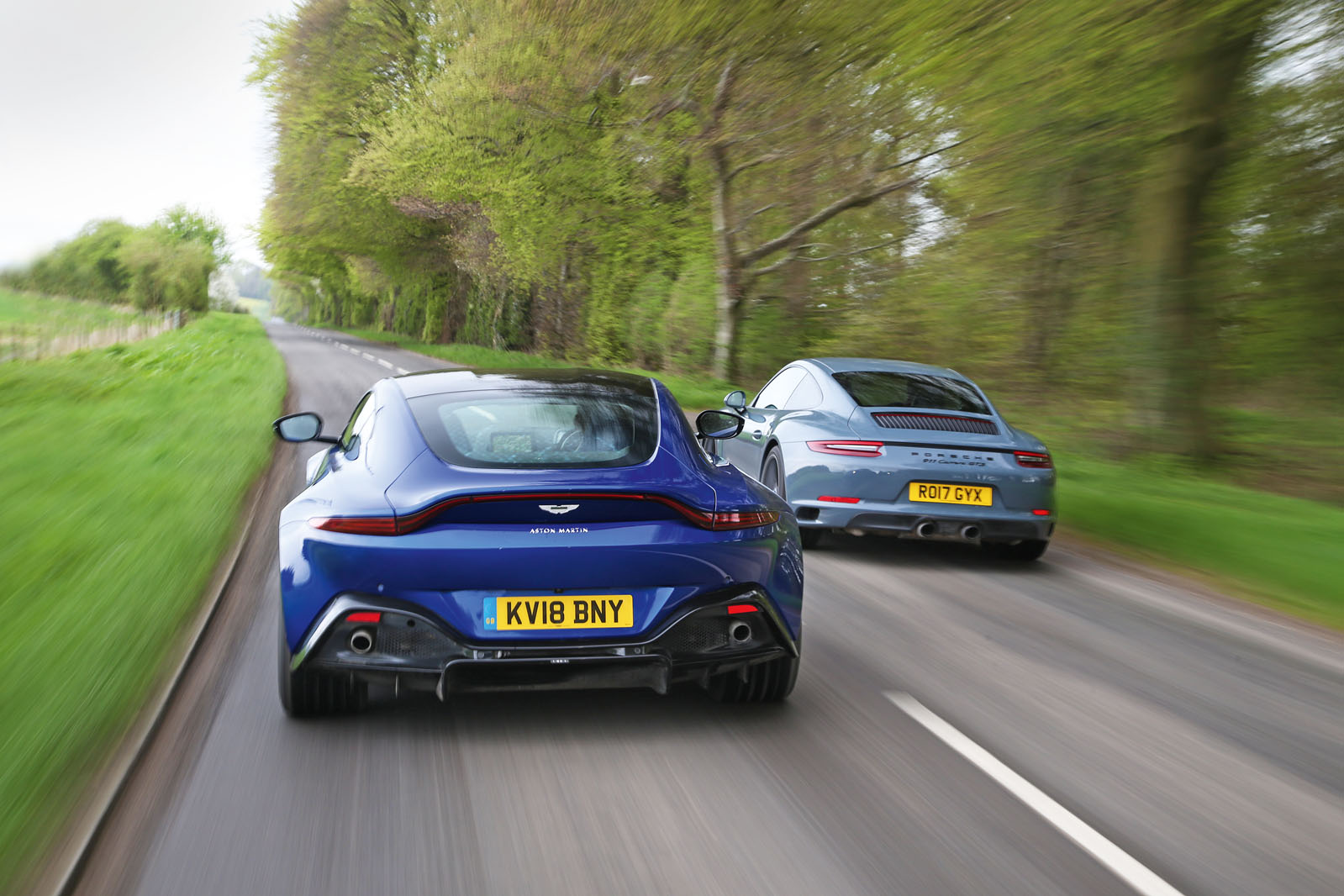 It also happens to be the case that Porsche GB doesn't have a Turbo demonstrator at the moment – and, moreover, that Aston Martin chose instead to benchmark the 911 Carrera GTS during the development of the new Vantage. So here we are, introducing this vital new Aston to a couple of cars that can be considered key rivals for it for the next few years – one of which you might even describe as formative. Or which, with some justification, you might not even describe as a key rival at all.
In recent years, I've seen more chassis engineers than I can remember simply nod sagely and smile in quiet awe when the GTS comes up in conversation. Suffice it to say, leaving the more specialised GT3 conveniently to one side if you'll permit it, I reckon a rear-wheel- drive, manual, judiciously equipped GTS would be the 911 held up as the very best of the current breed for its driver appeal by most of us fortunate enough to have driven 911s fairly widely.
And 'judiciously equipped' is what we've got here: standard lowered sports springs, widened rear track, PASM adaptive dampers, slippy diff, feelsome steel brakes and 20in 'Turbo S' wheels – with optional four-wheel steering and Porsche Dynamic Chassis Control active anti-roll bars included.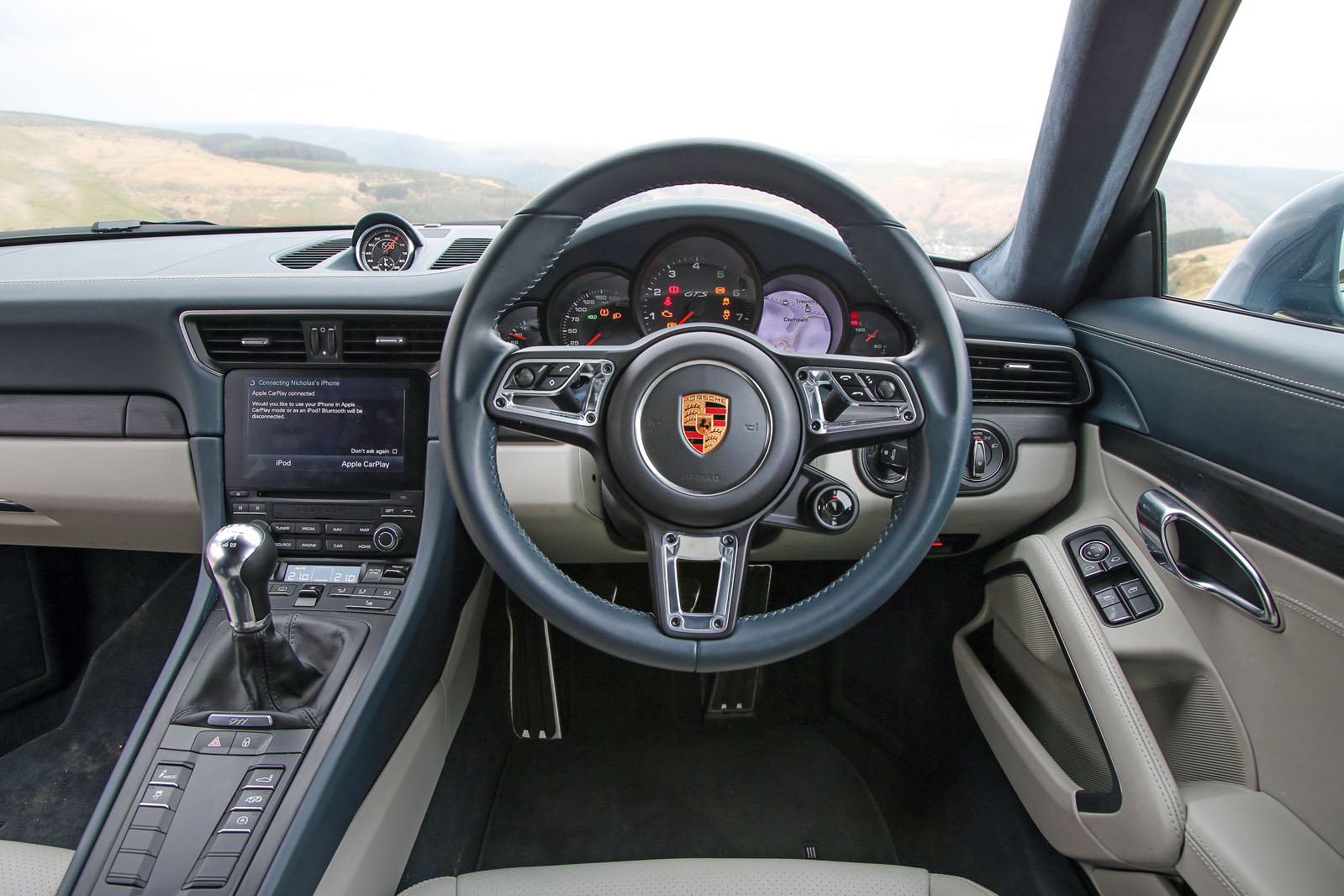 Taking the 911 as our reference sports car of choice, then, it's interesting to observe, before we get into the detail of their respective driving experiences, exactly how both the Vantage and the 540C may be considered superior to it on the spec sheet and parked up at the kerb. Because, for a kick-off, super-sports cars have to be super, don't they? And, in their different ways, both the 540C and the Vantage certainlyto be exactly that.
They've got power and pace covered. The Vantage offers 10% more horsepower than the 911, the 540C 25% more. It won't surprise you to learn which car is the quickest- accelerating on paper. But on all- important torque-to-weight ratio, it's actually the Aston at the top of the pile. Even if you're conservative with your estimate of that car's true unladen weight (Aston only quotes 'minimum dry weight with lightweight options' in its press material), you'd put the car at north of 300lb ft per tonne, while the Porsche offers 280 and the McLaren 275.
The Aston Martin is also 'super'- desirable, certainly. In a fairly reserved colour and even allowing for aggressive frontal styling that seldom attracts compliments, it's a dominant presence in a car park that also contains a powder blue 540C and a grey 911. People notice the Vantage first and are drawn to it. That it's the brand-new model introduction here clearly plays a part in that visibility advantage, but it was telling to me that one particular passer-by who took an interest in all three cars didn't bat an eyelid when told the Vantage's £121,000 asking price. "It looks like the money," he said. Good point.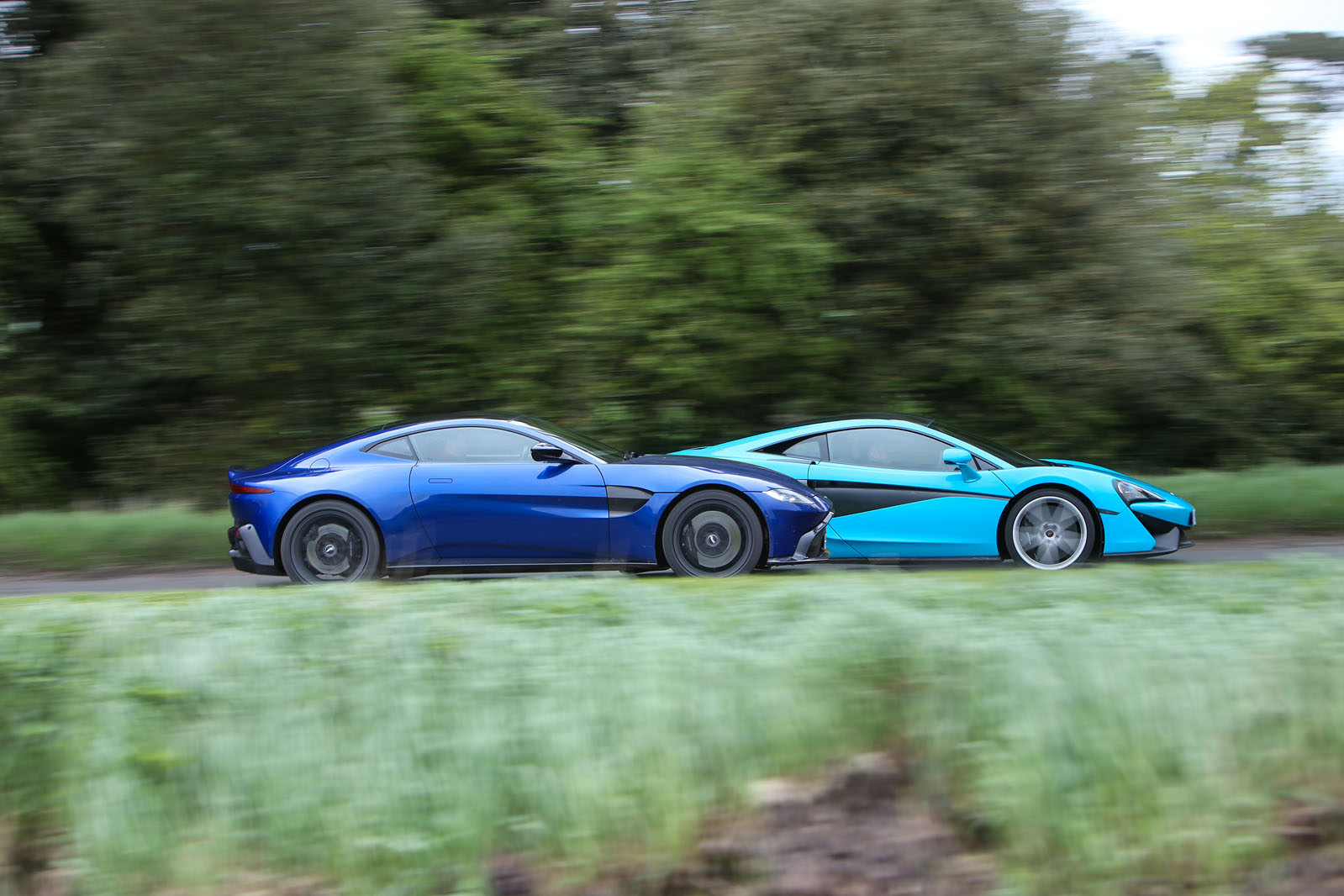 I reckon he would have conceded, if pushed, that the McLaren does too, but the 540C has the mid-engined performance purity and exotic carbonfibre construction as back-up when it comes to justifying its price. Both of those things are pretty 'super'. It's interesting that the McLaren's carbonfibre tub doesn't achieve a greater weight advantage for the car. It is only 4kg lighter than the …read more
Source:: Autocar