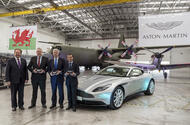 Work on Aston Martin's St Athan plant is officially underway, as the Ministry of Defence handed over the site to the brand today.
Ex-Ministry of Defence site in Wales is being converted from three super-hangers into a manufacturing facility
Work on Aston Martin's St Athan plant in Wales has now entered its second phase, meaning the brand is on course to convert the ex-Ministry of Defence site's three super-hangers into a production facility in time for DBX production.
The St Athan site will build the DBX SUV, first seen at the 2015 Geneva motor show, from 2019 onwards, as Aston's seven planned new models come to the fore. It will also play a significant role in developing Aston Martin's future electric and hybrid models, the first of which, the RapidE, is also due in 2019.
Read more: Production Aston Martin DBX previewed in new image
Local firm T Richard Jones (TRJ) has been selected as a construction partner for the new Welsh site's following building phase. St Athan will eventually employ 750 workers who were selected from 3000 applicants at a recruitment event last year. Like Aston Martin's existing Gaydon plant, St Athan was formerly occupied by the Royal Air Force (RAF).
Aston Martin CEO Andy Palmer said "This is yet another step on our journey in Wales, with the facility now starting to take shape. TRJ have proven themselves during phase one and we look forward to working with them over the course of this next phase of the project."
Palmer said that production versions of the DBX will «start coming off the line in late 2019,» but revealed that first development prototypes will be made «towards the end of next year.
«There will be some [overlap between the two sites]. If we're already making components in Gaydon that are needed in St Athan there seems little point tooling up all over again. Likewise work done in St Athan, particularly in areas such as electrification will clearly have its applications in Gaydon,» he added. «But in principle I like the idea of having two competing plants, particularly as one is in England and the other in Wales. It promotes healthy competition and each will drag the other up.»
Ahead of its St Athan phase two announcement, Aston Martin hired ex-Maserati and Ferrari engine boss Joerg Ross to be its new chief engineer for powertrains – as move which comes as part of its push towards electrification.
«We will have an engineering centre here, it is also likely to be where we do the bulk of our electrification work,» continued Palmer. «Also, we will have our cyber security department here. All the talk these days is of autonomous drive but very few people are talking about how to make sure these cars cannot be hacked, and in many ways that's a more difficult challenge than autonomy. But until the cars are secure, they cannot be autonomous.»
Certain areas of the plant have already been built; the customer and staff reception areas, as well as administration and management offices and employee restaurant; for which Aston Martin was given access to the site to build. The three hangars from the RAF's occupation of the site will be repurposed into the manufacturing plant, though. Palmer said: «We are hosting the Aston Martin Owners Club concours over the weekend, then we start work on the concrete floor first thing on Monday morning.»
Some of the future employees at the site are currently being trained at Aston's Gaydon plant while working on the DB11, while another 250 jobs are being created at Gaydon; Aston claims that 1000 jobs in total are being created from its current expansion plan.
Palmer said: "Due to its sheer size and scale, the St Athan Super Hangars represented an excellent opportunity for us to build our second manufacturing facility, within the envelope of an existing structure. It is perhaps fitting that St Athan is, like our headquarters and sports car factory at Gaydon, a former RAF base. We have three hangars, one of which will handle house the body in white, one will be the paint shop and one will look after trim and final assembly.»
The plant's role in Aston's growth plan is pivotal, as the brand chases six more model lines in the next five years; the new Vantage in 2017, Vanquish in 2018, DBX in 2019, a mid-engined sports car in 2020 and then Lagondas in 2021 and 2022.
Jimi Beckwith and Andrew Frankel
Read more:
Aston Martin DBX crossover – new pictures
Aston Martin DBX to be built in Wales
Source:: Autocar