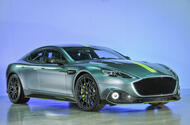 AMR models will draw on Aston Martin's racing background and have enhanced performance and sharper dynamics
The Aston Martin Rapide AMR and Vantage AMR Pro were revealed at the Geneva motor show, launching an all-new, limited edition hardcore performance sub-brand for the British marque that will be applied to all future model ranges, including its upcoming SUV.
AMR models will draw on the firm's racing past and present, offering enhanced performance, sharper dynamics and more extreme styling. Described by Aston Martin chief creative officer Marek Reichman as the "cherry on the cake" of every Aston model in its range, AMR cars will be road-legal, while AMR Pro cars will be track only and developed separately from other models by the Q by Aston Martin bespoke division.
The Rapide AMR is described by its makers as "the world's most thrilling four door". It is powered by the 592bhp V12 from the Vantage GT12, running through a new quad exhaust system. It has a top speed of 210mph.
It is finished in Stirling Green with lime green accents, has 21-inch wheels and a revised grille, front splitter, side sills, rear diffuser and aero spoiler on the rear. Inside there is extensive use of carbonfibre, including lightweight seats and trims. 210 cars will be made.
The Vantage AMR Pro is powered by a 500bhp version of the championship-winning GT4's V8 race engine. It also has race-spec adjustable suspension, engine and transmissions mounts and centre lock wheels and race tyres. Aston Martin says it offers "inspirational handling precision and exceptional levels of grip and traction".
Also painted Stirling Green with lime green accents, it also uses the bonnet and rear wing of the firm's World Endurance Championship-winning racers. Other details include new front bumper, grille, splitter and rear diffuser designs. Inside, carbonfibre dominates again, as well as the roll cage. Just seven Vantage AMR Pro cars will be sold.
Owners of AMR cars will be offered driving tuition, as Vulcan buyers were, but Reichmann stressed that they had not been designed to be intimidating. "We can help people experience the full potential of these cars," he said. "Remember our heritage is in endurance racing, where the cars are designed to be driven on the edge for lap after lap all the way to the end of a 24-hour race, rather than being wrung out over a single lap."
Q+A Marek Reichmann, Chief Creative Officer Aston Martin
Aston Martin has come alive under Andy Palmer, how do you keep up?
«There is so much going on it is unbelievable, but the beauty of it is that Andy has created a structure that makes it possible. We have seven core models that we will constantly update and replace, and space around them to add in cars that are the cherry on top of the icing, like these AMR cars. The strategy has never been clearer, and it really hit its stride with the launch of DB11. What you are seeing is 104 years of potential all coming out through Andy's 'Second Century' plan. It's exciting times.»
Why decide to make more of the racing link now?
«Aston Martin began life making racing cars to charge up the Aston Hill in 1913/14. We are the 2016 World Champions in the World Endurance Championship. Racing is at the core of who we are, and these cars – and this new line of AMR models – will be an authentic way of celebrating that incredible history and fun.»
These first AMR models sound pretty hardcore?
«They are raw, but the key is that any car we build – even the Vulcan – will alwyas be accessible. We want to give the driver a unique visceral feeling that other car companies miss, yet allow them to learn and grow as a driver too. Whatever your potential, these cars can help you enjoy it. These aren't cars that need to be driven on the terrofying edge, they are cars that build you up to a consistent, thrilling speed.»
How hard were these first AMR cars to design? Race car designers tend to be pretty restricted in what they can do?
«The beauty of this project is that we have an active role in the racing team's design anyway. Of course there are restrictions, but we do work with the race team, analysing aero surfaces and manipulating them to best effect. There is scope to get best aero and best aesthetic in racing, and the same is true for the road cars. It is collaborative and therefore authentic, as you got a taste of with the Aston Martin GT8 and GT12 cars.»
How much input have customers had to AMR?
«We've teased it to some of them – thats why both show cars are already sold! – but it's more about assessing the appetite for the project than asking them to offer input. The Vantage AMR Pro has the race car's bonnet – you don't get much more exciting or authentic than that.»
Why can Aston do these projects where others can't? And what makes you different?
«We're an independent, small company that is inclusive despite selling rare and exclusive products. Not many people can say that. If you're eight and staring at our cars on the Geneva motor show stand, we'll invite you on. If you're a customer we'll invite you to dinner to meet the team, be it Andy, myself or perhaps Adrian Newey. I know many of our customers as friends; not just for a handshake and hello, but a laugh and lunch. If you want to buy our cars, you are part of the family.»
Read all the news from Geneva motor show
Source:: Autocar