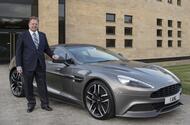 Aston Martin is set to list shares for sale on the stock exchange in the coming weeks, as financial results are reported
After rumours began circling last year, Aston Martin has confirmed it will be floating the company on the London Stock Exchange within the next couple of months.
The formal launch of the firm's initial public offering (IPO) will see up to £1bn of shares in Aston offered for sale. After today's intention-to-float statement, shares are expected to begin trading before the winter.
The British supercar maker is currently owned by Italian and Kuwaiti shareholders, with other minority investors. Investindustrial took a 37.5% stake in Aston Martin in 2012, with Daimler also owning a 5% share. With interest globally, there was debate about whether the company should float its shares in London or New York.
The decision to float Aston has been long been mooted as sales continue to grow, with new products such as the DB11 and Vantage ensuring the company's financial outlook is strong.
There is more to come, with a number of new products – such as the DBX SUV and an all-new Lagonda saloon – due to hit the market in the next few years.
Rival carmaker Ferrari had great success with its stock market flotation in 2015, doubling the company's value to around £15bn in little under a year. McLaren has also considered a stock market entry in a bid to further boost investment.
Source:: Autocar