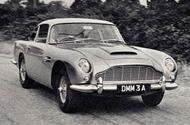 Back in 1964 the Aston Martin DB5 was up against the Jaguar E-Type and Maserati 3500 GTI
The Aston Martin DB5 is a car that once defined a brand. It was the chariot of choice for Mr Bond himself, and the resulting exposure meant this single model helped to shoot Aston Martin into the global limelight.
It was also remarkably good at being a luxury grand tourer, if an Autocar road test from 1964 is anything to go by.
"More and more cars today can reach the magical 'ton', but those that can do it with the ease and rapidity of the …read more
Source:: Autocar