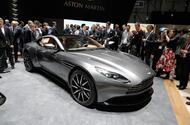 Andy Palmer has confirmed a plaque with his signature will be fitted to early cars
The first 1000 customer Aston Martin DB11s will be personally inspected by company CEO Andy Palmer.
In a Tweet released yesterday (shown below), the Aston Martin boss said a plaque with his signature would be mounted on the V12 engines of cars 1 to 1000 following his approval at the end of the production line.
The rest of the DB11 production run will be checked over by Aston Martin's regular team of inspectors.
Insiders say the decision for Palmer to inspect the early cars was taken …read more
Source:: Autocar