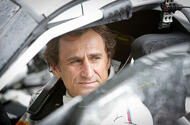 From racing star to paralympic para-cycling champion, Alex Zanardi tells Autocar about his hopes for the Rio Paralympics and his racing future
Alex Zanardi knows the topic is going to come up in any interview he gives. The accident.
It's probably one of the first things that comes to your mind too: the crash 13 laps from the end of a CART (later Champ Car) race at Germany's Lausitzring in 2001 that required the Italian, one of the best drivers of his generation, to have both legs amputated.
"I opened my eyes and I was happy to be alive," recalls Zanardi of the …read more
Source:: Autocar