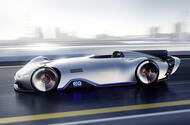 The Mercedes-Benz EQ Silver Arrow
Mercedes-Benz's one-off electric single-seat concept is inspired by streamlined public speed record holder from 1938
Mercedes-Benz has unveiled the EQ Silver Arrow, a 738bhp figurehead for its new EQ electric sub-brand that is inspired by the firm's streamlined high-speed record breakers from the 1930s.
The spectacular 5300mm-long single seater, revealed at the Pebble Beach Concourse d'Elegance in the USA, officially acts as a homage to the 80-year-old W125 Rekordwagen – a teardrop-shaped prototype powered by a 725bhp 5.6-litre V12 petrol engine that was driven to a public road record speed of 269mph in Germany back in 1938.
The concept is also a pointer to current stylistic and aerodynamic developments at the German car maker, and to future performance models from the EQ brand. The firm's range of electric production cars will start with the EQ C in 2019.
Intended as a one-off, the EQ Silver Arrow is based around an extended version of Mercedes-Benz's new MEA (modular electric architecture) platform that uses a flat floor to house battery modules. Its body structure, painted silver in recognition of the W125, is made of carbon fibre.
While the design of the low slung concept is credited to Mathias Schenker, who works at the brand's North American design studio, the flamboyant appearance of the EQ Silver Arrow was finalised under a team headed by Mercedes-Benz's Chief Design Officer, Gorden Wagener, in Sindelfingen, Germany.
Various design elements, including the blue light band between the front headlamps and red light band at the rear, are similar to those that will be seem on EQ production models.
The cars features a series of active aerodynamic elements, including spoilers that extend out of the rear bodywork at speed, designed to act as an air brake by generating downforce during hard braking.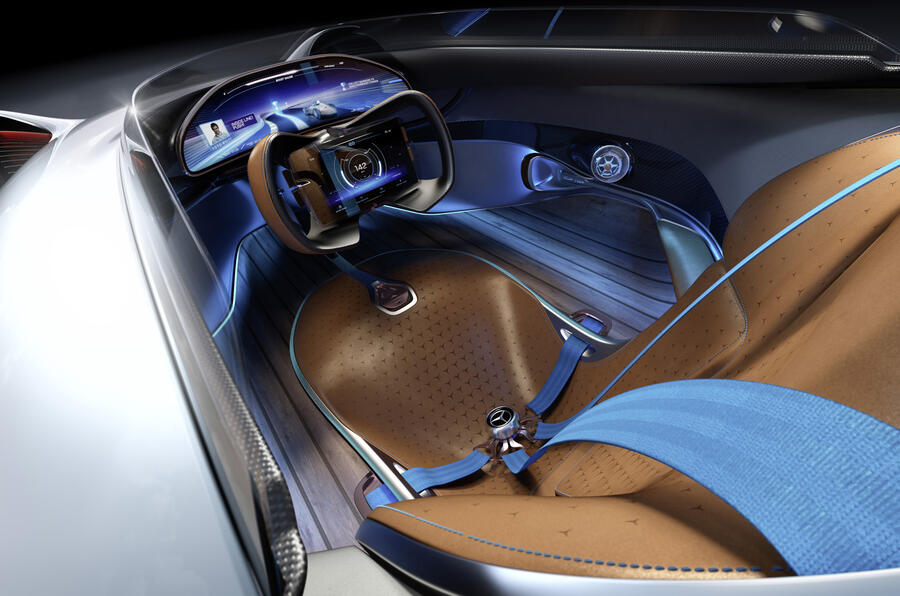 As with the W125 Rekordwagen, which was built around Mercedes-Benz's Grand Prix car of the time, the EQ Silver Arrow features a single seat cockpit. The wood and leather-lined interior takes on a futuristic appearance with a large main digital display and steering wheel with a secondary display.
The Silver Arrow has been conceived to run a pure electric drivetrain developing up to 738bhp. Electrical energy is provided by an 80kWh battery that gives the single seater a theoretical range of up to 249 miles.
A similarly specified drivetrain is understoof to be under development for a new electric-powered AMG performance model that Mercedes-Benz sources suggest is being considered as a flagship model for the EQ line-up as a rival to the Porsche Taycan.
The EQ Silver Arrow is the third concept to be revealed by Mercedes-Benz in recent years at Pebble Beach, following on from the Mercedes-Maybach 6 and Mercedes-Maybach 6 Convertible shown in 2016 and 2017 respectively.
Read more
Porsche Taycan: 592bhp powertrain and sub-3.5 sec 0-62mph time confirmed
Mercedes-Benz EQ S to rival next Jaguar XJ
Source:: Autocar