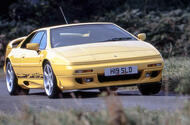 The McLaren F1 will be reborn as a three-seat GT, but what other memorable cars deserve to be reincarnated?
The iconic McLaren F1 is about to make a reinvented comeback, so we got thinking about what else we'd like to see return from the mists of time.
So here (with none of the business case considerations that would be required for it to actually happen) is our list of dream resurrections for the modern day.
Lancia Delta HF Integrale
Any version of the Integrale should be on the To Drive bucket list of any self-respecting petrolhead. Which is why the current Lancia line-up …read more
Source:: Autocar