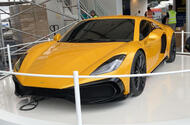 Noble Automotive's latest car will be sold as a more road-friendly alternative to the M600
The Noble M500 has been revealed as the brand's new entry-level model, at the Goodwood Festival of Speed.
It'll have around 550bhp at launch, coming from a twin-turbocharged Ford V6 engine – the same unit that is used in the Ford F-150 and GT, which leaves a gap of around 110bhp between the M500 and M600, which was introduced in 2010.
Transmission is a DSG dual-clutch gearbox, and it's likely to follow the M600 in being rear-wheel drive. Company director Peter Boutwood penned the design, which takes a step away from the M600's squarer lines, in line with other modern supercars with flying buttresses and a slippery shape.
The model on display at Goodwood is not a working prototype, but a full-sized model without an interior. Boutwood describes the car as being in the early stages of development, so it's likely that the M500 won't reach production until well into 2019.
Even so, Boutwood hopes that it can heavily undercut the M600's ~£300,000 asking price, and that greater volume can be achieved with this lower entry point. This is not set in stone until further down the production process, though.
Unlike the M600, the M500 will not be made from carbonfibre for the exterior, to keep weight down, but will instead have a fibreglass body. It's likely to weigh around the same as than the M600's 1250kg, although the car's everyday usability focus could mean that comfort features bring the weight up.
Read more:
Lee Noble to launch 515bhp per tonne Exile track car
Why Lee Noble switched from making super cars to super-fun cars
Source:: Autocar