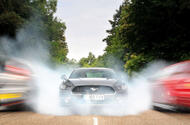 Ford Focus RS, Vauxhall VXR8 and the Mazda MX-5 all offer plenty of power for your pound. We examine them and 47 other bhp bargains
Bang for your buck, performance for your pound, dash for your cash, wallop for your wad… whatever you want to call it, I think we can agree that this is not a high-brow concept.
Indeed, and at its heart, it is a number arrived at extremely easily for more than 40 years now, since the widespread availability of that diminutive giant of the computer age, the pocket calculator. Price divided by power.
And yet there is a certain …read more
Source:: Autocar