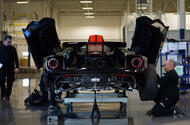 More than 6500 people applied to own one of the first batch of Ford GTs; the first car is being built in Ontario today
Ford will produce 25 GT customer cars for the UK market per year, a Blue Oval spokesman has confirmed.
This is at least five more than previously thought, suggesting that demand here has exceeded expectations. Ford of Britain Boss, Andy Barratt, previously told Autocar "I want as many as I can because it is such an iconic car».
Production for the GT began in December, almost two years after the initial pre-production car was revealed in Detroit.
Ford GT specifications confirmed – click here for more
The GT is being built at Canadian race engineering company Multimatic's Ontario plant, where the GTE racing cars that contest at Le Mans are also prepared.
The Ontario plant will produce up to 250 models for the global market per year, with total production so far capped at 1000.
Only the first batch of 500 cars has been allocated. Applications for the remaining 500 will open in 2018.
Ford CTO Raj Nair drove the first GT off the assembly line. «When we kicked off 2016, we had two primary objectives for our Ford GT supercar – to excel at Le Mans, and to start deliveries before year-end,» he said. «We've achieved both.
«For everyone involved in designing and developing this car, including all of our employees and suppliers, this is a moment to celebrate,» he added. «The all-new Ford GT is a showcase of our strength in innovation and our commitment to delivering more for our customers – especially related to light-weight materials, aerodynamics and EcoBoost engine technologies.»
Heavy demand
In the first batch, a total of 6506 global orders were received for the model by the time order books closed in spring.
Ford picks buyers based on responses to a questionnaire, with a preference given to prospective buyers who will drive the car regularly, rather than collectors who may not take it out on to the road.
The new car ditches its predecessor's V8 engine in favour of a twin-turbo 3.5-litre Ecoboost V6. Ford claims a power output of 647bhp.
Prices are tipped to start at €500,000 (around £395,000) although Ford has yet to confirm this officially. Such pricing would put the new GT well above the Lamborghini Aventador, Ferrari F12 Berlinetta and McLaren 675LT.
Just 28 examples of the previous generation GT made it to the UK, despite the fact 4000 were produced between 2005-06.
Read more:
Ford launches online configurator for GT
Video: Ford GT active aerodynamics demonstrated in wind tunnel
Source:: Autocar