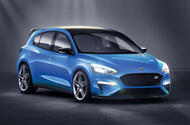 The next Focus RS, as imagined by Autocar
Electrification will make the 2020 Focus RS punch harder and emit less pollution; it'll rival future AMG and Audi Sport mega-hatches for pace
Ford is planning an even faster, more powerful and more efficient Focus RS for 2020 and will use the new mega-hatch to showcase a suite of 48V mild-hybrid technologies the company is introducing across its global medium and large-car ranges.
With the combination of its combustion and electric motors, the car's power output is expected to exceed 400bhp, rivalling next-generation offerings from Mercedes-AMG and Audi.
While improving the RS's already impressive acceleration times and driving characteristics, the model's new technology should dramatically cut both CO2 and toxic emissions to meet rapidly tightening world demands. European regulations require car makers to meet a 95g/km CO2 fleet average by 2021. The outgoing Focus RS emits 175g/km.
Next Ford Focus to be revealed next week with 'class leading dynamics'
The new RS, based on the next-generation standard Focus (pictured below) that's due for reveal next week, is part of a 40-model Ford electrification offensive announced at the Detroit motor show earlier this year. At the show, the company announced a doubling of its spending commitment to £8.7 billion by 2022 and said it would spend the money both on new electric-only models and platforms (such as the Mustang-based Mach 1) and on updating many of its existing models to 48V hybrids from 2019.
Ford's president of global markets, Jim Farley, is also one of the main architects of the Ford Performance division the firm now regards as a major asset. He revealed a new Ford plan to enhance the credibility of future electrification technologies by applying them first to its most iconic models, such as the Focus RS.
Ford of Britain chairman and CEO Andy Barratt reiterated the importance of the RS brand when he launched a Heritage Edition version of the fast Focus, marking the 50th anniversary of the appearance of RS on an Escort, the Focus's predecessor.
Ford Performance's switch to hybrid should be celebrated
"The RS brand is hugely important to Ford and is recognised across the globe," he said. "It has a special place in the hearts of UK Ford fans. This latest RS is the best we've ever produced."
The next Focus RS is tipped to use the outgoing model's 2.3-litre turbocharged four-cylinder petrol engine. This motor now produces 370bhp and 376lb ft following a recent round of Mountune upgrades, thanks to a high-flow induction kit, an uprated turbocharger recirculating valve and calibration changes.
Ford has a history of adopting 'tweaks' devised by the iconic Mountune tuning company for later production models.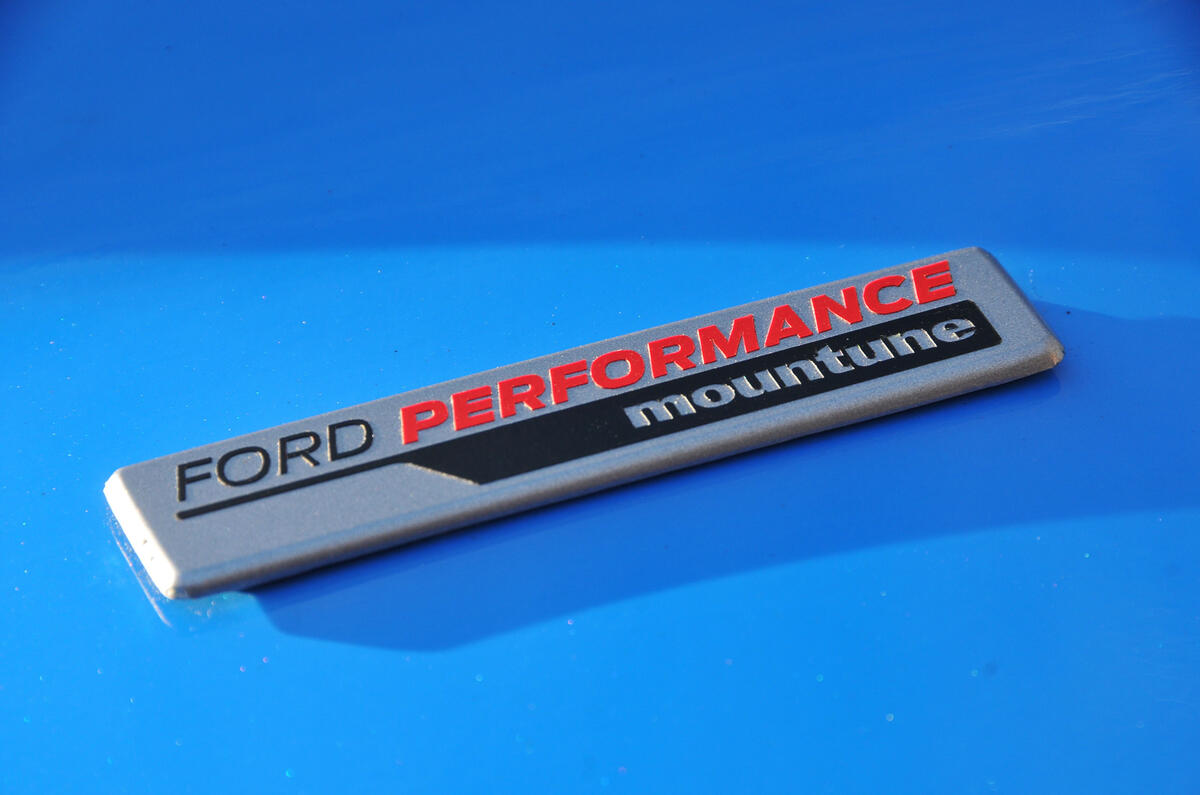 The new Focus RS engine's output of 370bhp is likely to be augmented by a contribution of 25-30bhp – and, more important, around 60-70lb ft of start-up torque – from a 48V integrated starter/generator (ISG).
The system's effortless restarting will save fuel and reduce CO2 by allowing longer engine-off periods, will more efficiently collect regenerated energy from braking and will sharpen the car's low-speed accelerator response by contributing extra torque from standstill. This will both improve acceleration times and allow the engine to operate more often in its most efficient power bands, a means of reducing emissions, especially NOx.
The total combined power and torque – an estimated 400bhp and 425lb ft – should allow the forthcoming Focus RS to match and possibly beat the new wave of top-end hot hatches from Germany.
It should also enable Ford to cut the Focus RS's 0-60mph time from today's 4.6sec to the 4.2sec of the class-leading Mercedes-AMG A45.
Even more important than outright pace in a difficult era for high-performance cars are the impressive cuts in exhaust pollutants offered by the new ISG set-up. It's unlikely that the new Focus RS will use an electrically driven turbocharger – as recently showcased by Audi – although Ford is known to have been experimenting with these for at least four years. Recent estimates suggest that an ISG-equipped next-generation Focus RS should return cuts of 20-30g/km in its CO2 output, a vital contribution to reducing the fleet average.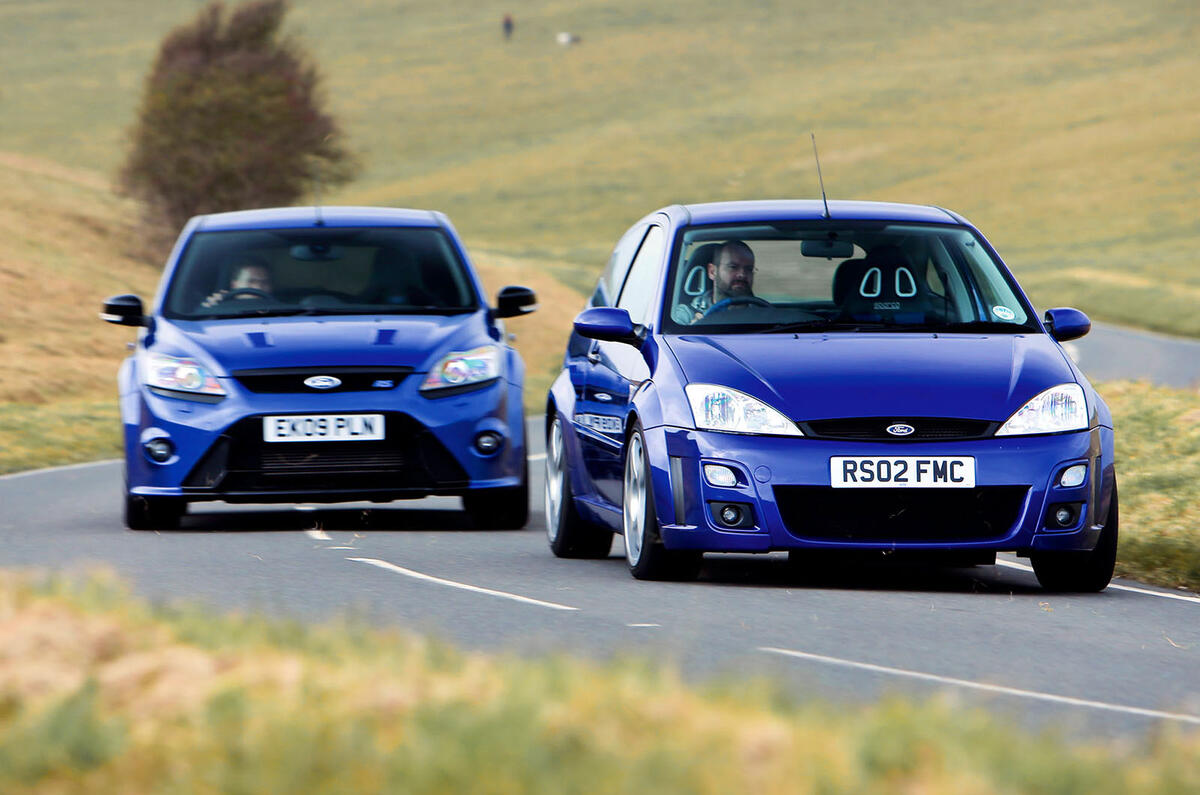 All Focus RS editions (including the Mk2 and Mk1, pictured above) so far have had six-speed manual gearboxes, but the fourth-generation version could offer a dual-clutch automatic option. This would take advantage of the ISG's ability to provide 'torque pulses' to smooth gearchanges. The availability of a self-shifter could also strengthen much needed demand for the car in automatic-crazy China and US markets. In the US, especially, the car is seen as costly for its size.
Ford also has multi-speed automatic transmissions available, but they're unlikely to be used because they're heavier, bulkier and more difficult to package in a car such as the Focus RS. Even the extra space required to house a shoe-box-sized 48V battery (probably under the rear seat) is likely to have been hard-won: the new Focus sits on a modified version of the outgoing Focus C2 platform with a 50mm-longer wheelbase and a slightly increased 4.4m body length.
As with the current model, the next Focus RS will be a five-door hatchback. Three-door hatches are nowadays seen as unnecessarily costly because they sell poorly in cheaper guises.
Family-oriented versions of the next Focus are tipped to be around 50kg lighter, model for model, but the RS's extra battery and electric hardware are likely to eat up the difference. Acceleration (and circuit lap times) should nevertheless benefit from the car's better power-to-weight ratio and especially its quicker low-speed responses.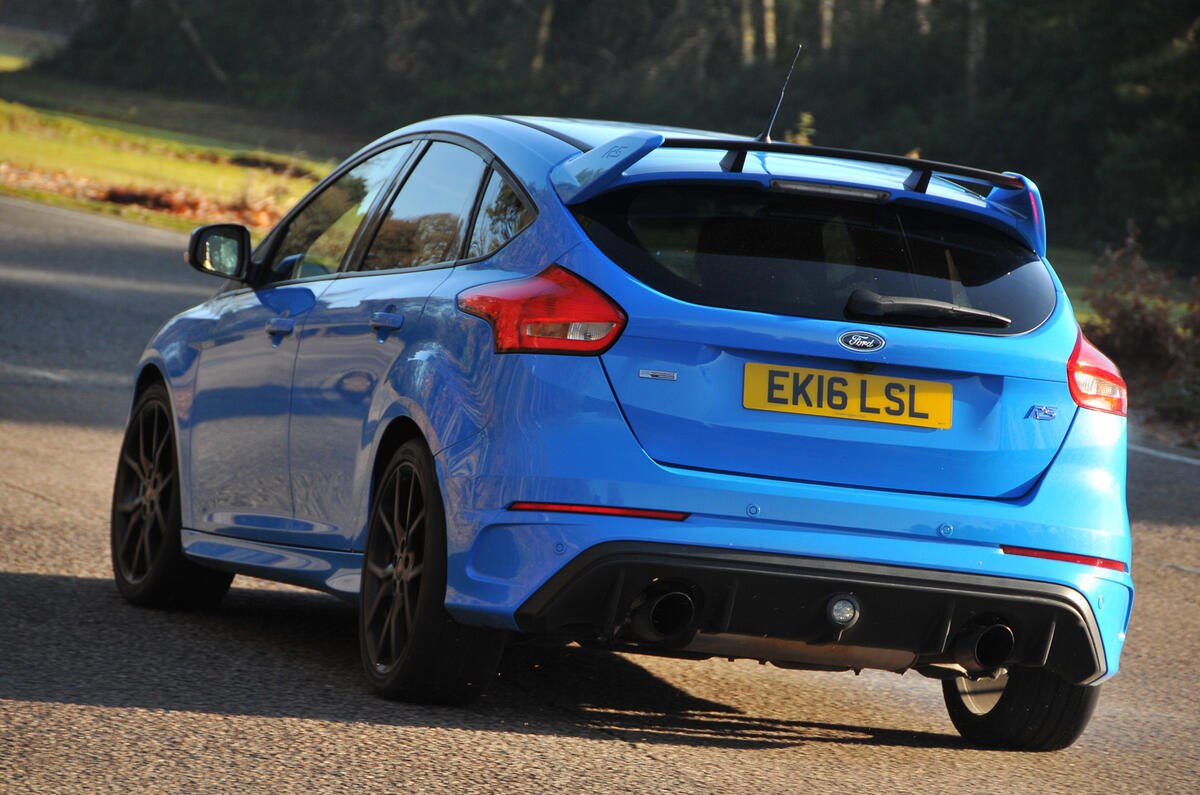 The new Focus RS's hardware similarity to its predecessor (above) makes it almost certain that next-generation production will resume at the Saarlouis plant in Germany, where the current car has been made.
The new Focus RS's cabin will follow suit of the regular car with new trim lines that're being redesigned along new Fiesta lines, simplifying the control layout, increase interior space and improve visibility. There has also been special attention paid to quality enhancements across the Focus range. Ford …read more
Source:: Autocar