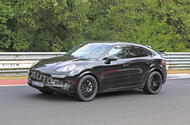 New variant seen with active rear spoiler as Porsche prepares to take on the Mercedes-Benz GLE Coupe and BMW X6
The upcoming Porsche Cayenne coupé has been spotted undergoing high-speed testing at the Nurburgring, revealing the SUV's retractable rear spoiler in action for the first time.
The coupé variant is set to compete with the BMW X6 and the Mercedes-Benz GLE Coupé from the end of 2019. It is intended to broaden the scope of the Cayenne line-up, which currently comprises only one body style and features petrol and hybrid models.
The spy pictures show that the new Porsche model receives the same front-end styling as the third-generation Cayenne, albeit with a unique front bumper design. In a move mirroring that of its key rivals, it adopts a newly styled liftback-style tailgate, altered rear side windows and a new tail-light design that is aimed at providing the Cayenne coupé with a more sporting profile.
The retractable rear spoiler, which had previously only been seen in its lowered position, appears to raise and lower as a single piece, rather than use the split wing design seen in the second-generation Panamera.
Engineering sources close to the German car maker told Autocar that UK sales for the more sleek Cayenne derivative are set to begin in the fourth quarter of 2019. Its arrival was confirmed by Porsche boss Oliver Blume, who revealed that he'd granted a production green light to the coupé in June.
Previous spy pictures had shown a development model being tested on public roads in Germany. Camouflaging over the rear lights hide their design, but Autocar's rendering (below) offers insight into what to expect when the model is revealed.
Blume first hinted at the Cayenne hybrid in an interview with Autocar last year. The five-door Cayenne coupé will be based heavily on its more practical Cayenne sibling, alongside which it will be assembled at Porsche's factory in Leipzig, Germany.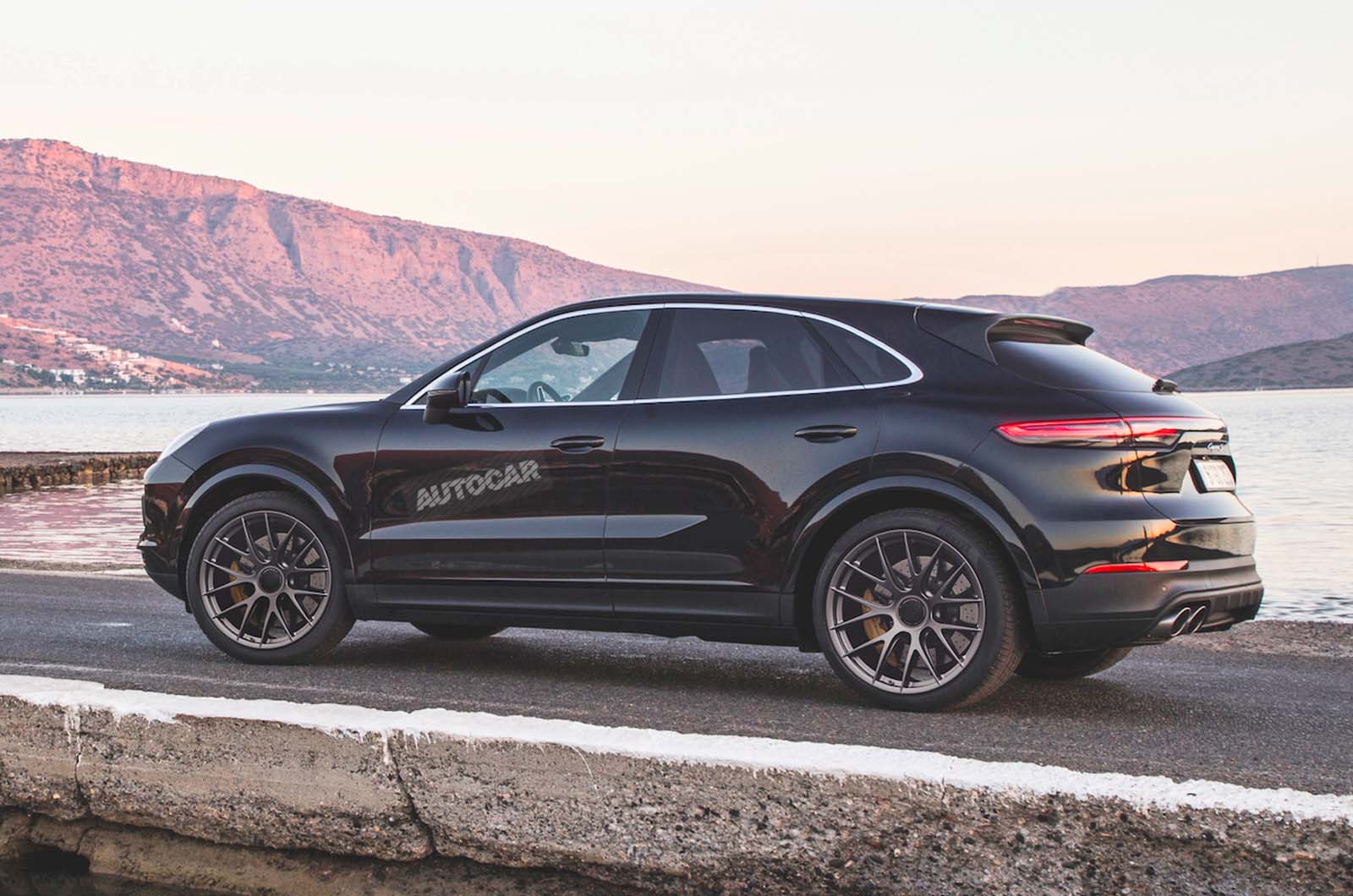 Porsche intends to position the Cayenne coupé as a performance model, with both a 440bhp version of its twin-turbocharged 2.9-litre V6 and a 550bhp version of its twin-turbocharged 4.0-litre V8 petrol engines set to be offered from launch.
No diesel-engined versions of the new model are planned, although a diesel variant of the normal Cayenne SUV is due next year.
Read more
New Porsche Cayenne revealed – full details of revamped SUV
Source:: Autocar