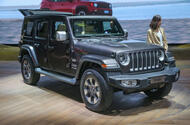 New SUV is due to land in Europe in late 2018 with petrol and diesel engines. We miss out on its first electrified powertrain option at launch, though
Jeep has revealed European specs for its latest Wrangler, which is due in Britain by 2019. Engines from launch will be a 2.2-litre, 197bhp diesel and a 2.0-litre, 268bhp petrol, although other markets get hybrid and V6 units.
The diesel produces 197bhp and 332lb ft of torque, and has an aluminium block, variable geometry turbocharger and stop-start. The petrol, meanwhile, gives 268bhp and 295lb ft of torque, and is available exclusively with an 8-speed automatic gearbox.
The car, which is already on sale in America and arrives in Europe in autumn, is also the first Wrangler to get a new 2.0-litre four-cylinder engine that uses a twin-scroll turbocharger and new eTorque technology.
This mild hybrid system outputs a maximum of 270bhp and 295lb ft of torque, while also enabling significant improvements to efficiency. Stop/start technology is included, and the engine can switch off when the car is coasting.
The Wrangler is also offered with a 3.6-litre petrol engine with 285bhp and 260lb ft of torque, while a 3.0-litre diesel that produces 260bhp and 442lb ft will be added to the range from 2019. Both units use start/stop technology.
As standard, the Wrangler sends torque through a six-speed manual gearbox, but an eight-speed automatic is also on offer. Drive is channelled to all four wheels, with low-ratio 4:1 locking differentials available (they're standard on Rubicon cars).
The American SUV, first shown at the LA motor show, has been given a big technical boost to bring it up to date, but designers have been sure to retain the familiar look of its forebears, which stretch back to 1986.
It's offered in two- and four-door guises in Sport, Sport S, Sahara (exclusive to the four-door) and Rubicon trim. The model gets new LED lighting and is available with more open-air options, including one that enables the doors and roof to be removed.
Inside, Jeep's Uconnect infotainment technology features within a centrally mounted touchscreen that includes Apple CarPlay and Android Auto. Base cars get a 5.0in screen, but 7.0in and 8.4in versions are available in higher models. A 7.0in digital LED instrument cluster display is also available; base cars make do with a 3.5in screen between the dials.
Opinion: Jeep Wrangler – this is how to reinvent an off-road icon
Like its predecessors, the new Wrangler is based on a body-on-frame chassis design. It features five-link suspension, while the roll centre height has been raised and spring rates retuned to boost the car's off-road abilities and improve ride quality.
Jeep claims that the car can wade through water up to 760mm deep, just 40mm short of what the larger Range Rover Sport can manage, and drive up inclines with a 44 degree approach and a departure angle of 37 degrees. The car's ground clearance is 277mm.
Alongside its off-road hardware, the new car gets a raft of new safety tech, with 75 active and passive systems available. These include blind spot monitoring, electronic roll mitigation and rear-cross path detection technology.
When the new Wrangler arrives in the UK, it will likely do so in higher numbers than before. The UK volume of the current Wrangler, which is still available to buy in Britain, is low but consistently stable, with 322 units delivered in 2016. Jeep UK is understood to be pushing for a boost in available numbers when the next-generation Wrangler arrives following requests from prospective customers for more cars.
More content
Source:: Autocar