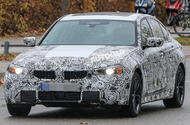 Next-generation BMW 3 Series saloon has been spotted testing with a new front design that copies the look of the 2017 5 Series
This is the latest footage of BMW's next-generation 3 Series, which has been spotted on test at the Nürburgring with a previously unseen front bumper.
The new saloon, codenamed G20, will replace the current F30 3 Series in 2019, when it goes on sale. BMW hasn't said when the new 3 Series will make its first official appearance but it has ruled out a 2017 launch. This means it's likely to make its debut at a 2018 motor show, most likely the Geneva or Paris motor show.
Previous G20 mules have been spotted testing at the Nürburgring (you can see one in our gallery) but this new prototype offers the best glimpse yet of what the final production model will look like and suggests it will share several features with the 2017 5 Series.
See what we make of the current generation BMW 3 Series saloon
The biggest example of this shared design is the front bumper. It appears to feature the same three-intake layout as the next 5 Series, and although the temporary headlights are heavily camouflaged, the same overall light structure will most likely be incorporated.
Sources say the other changes to the G20 3 Series will give it tauter-looking features and a harder-edged exterior. BMW's trickle-down styling approach will also be applied, meaning the 3 Series will look more like the new 5 Series, although it's not known how similar they will be. BMW's closest rival, Mercedes-Benz, has adopted a 'Russian doll' styling approach to its C, E and S-Class models, which very closely match one another on major design cues.
Spy photographers caught a glimpse of the latest test mule's dashboard design, but it looks to be an adapted version of the current 3 Series dashboard, rather than previewing what's to come in the next-generation car.
Engines and driveline
The G20 3 Series is expected to feature BMW's turbocharged 1.5-litre three-cylinder engine in an entry-level model, with turbocharged 2.0-litre four-cylinder petrol and diesel engines directly above it in the range.
More potent models, including the M3, will most likely still use turbocharged in-line six-cylinder units, but with gains in power and reductions in CO2 output.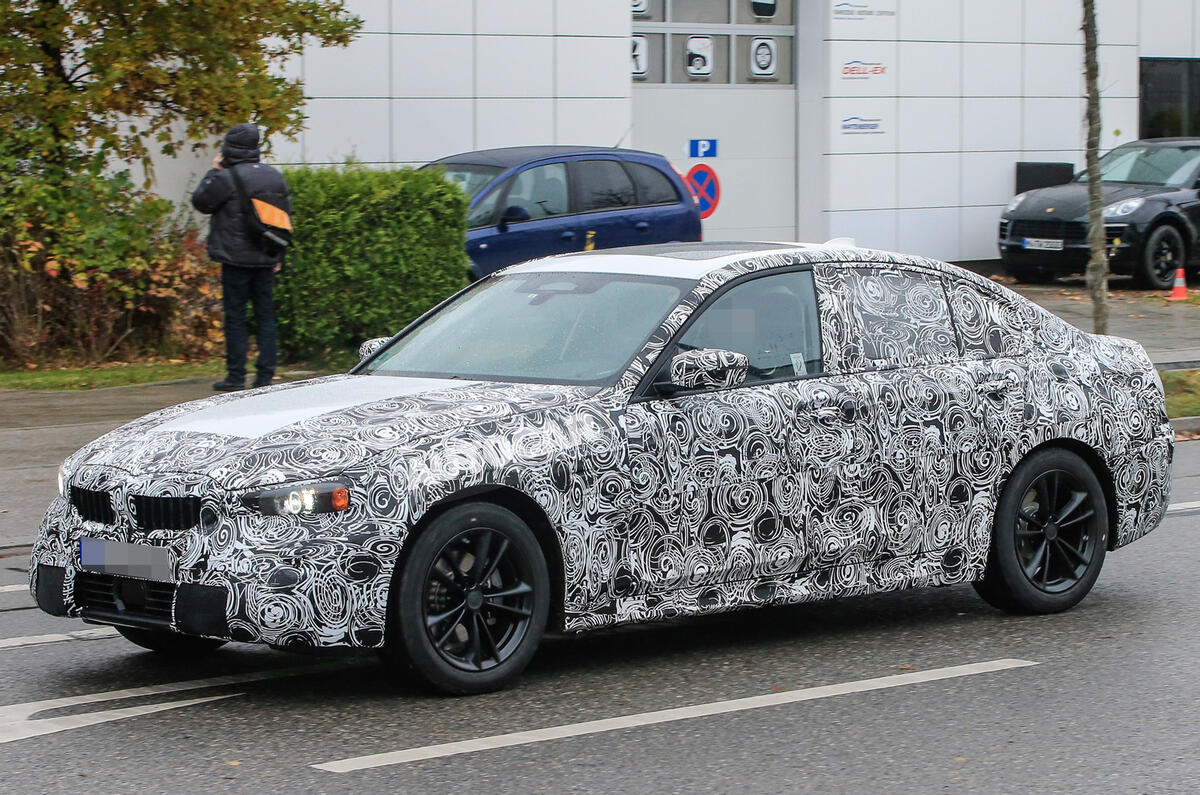 When it arrives, the G20 range will have to conform to the EU's next wave of emissions legislation. This means it will be the first generation of 3 Series tasked with producing an average CO2 emissions output of less than 100g/km.
Like its predecessor, it's expected to be available in both rear and four-wheel-drive forms.
Most recently, BMW updated its current 3 Series GT model to bring it into line with the rest of the range, which was recently refreshed with a facelifted exterior and new engines. As the 3 Series moves into the second half of its life cycle, BMW is getting ready to replace the model.
Source:: Autocar