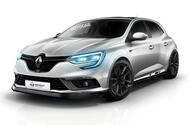 Renault designer Laurens van den Acker has given us exclusive information on what to expect from the next hot hatch from Renault
The next Renault Mégane Renault Sport will reach UK shores in 2018, and promises to be one of the hottest hatches on the market.
Talking to Autocar, VP of design Laurens van den Acker confirmed that the next hot Mégane will, like its Clio Renault Sport sibling, be available in five-door format only. With no three-door Mégane on the way, and no convertible planned either, customers will have just one body style to choose from.
It was …read more
Source:: Autocar