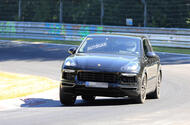 Next-generation Cayenne will be based on the same platform as the new Audi Q7. An all-electric powertrain could be offered
A development mule for the 2018 Porsche Cayenne has been spotted testing at the Nürburgring following a stint of running near the Alps.
The car is dressed in current-generation Cayenne bodywork, but beneath the familiar exterior sit new underpinnings because this mule is being used to test chassis components and settings.
Earlier development cars have been spotted running inside the Arctic Circle as part of cold weather testing.
Although the mules have all been dressed in current-generation Cayenne bodies, the finished next-generation model …read more
Source:: Autocar