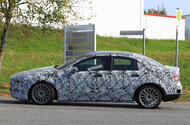 Mercedes-Benz is developing a rival to the Audi A3 Saloon, based on its A-Class hatchback
Mercedes-Benz's smallest three-box model will arrive with an AMG A45 version to take on the Audi RS3 Saloon
The forthcoming Mercedes-Benz A-Class Saloon has again been caught on camera testing at the Nürburgring, where engineers are putting the future Audi A3 Saloon model through its paces in the run-up to an anticipated launch this autumn.
Although the pre-production model features visibly toned-down styling compared with the dramatic Concept A Saloon that was revealed 2017 Shanghai motor show, the latest A-Class hatchback's aesthetic cues, including a pair of slimmer headlights and a larger front grille, are visible.
A 48V plug-in hybrid version of the A-Class Saloon is planned, with a 1.4-litre petrol engine, a nine-speed automatic gearbox and an electric-only range of 31 miles.
There will also be a hot Mercedes-AMG A45 variant to rival the Audi RS3 Saloon. The rest of the engines will be shared across the A-Class range.
These will be optimised for the new generation to give better fuel economy and lower emissions than the current models. Most prominent of these will likely be 1.4-litre and 1.2-litre variants of Mercedes and Renault's M282 four-cylinder petrol engine, although the 1.2-litre unit is yet to be confirmed.
New cars 2018: what's coming soon?
Additionally, 1.6-litre and 2.0-litre M260 petrol engines are set to feature. All of the diesels will be 2.0-litre, four-cylinder units.
Inside, the A-Class Saloon is expected to be almost identical to the A-Class hatchback and will feature Mercedes' full-width digital dashboard and infotainment display.
Also to be included will be S-Class-derived driver assistance systems that will allow the car to steer and brake autonomously up to certain speeds.
When the A-Class Saloon is introduced, it will sit alongside the CLA, a new version of which is due out next year. Both cars will offer a three-box shape in similarly-sized packages, but a Mercedes spokesman told Autocar that they'll appeal to different customers. Evidence for this comes with the E-Class and CLS, they said.
The A-Class will be the more practical and spacious offering, largely thanks to its less sleek roofline that holds onto more rear head room. The CLA will therefore have a sportier look, which will be mirrored in its handling.
Additional reporting by Sam Sheehan
Read more:
2018 Mercedes A-Class caught testing on video in near-production form
Source:: Autocar