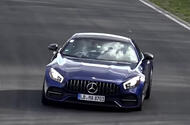 The 2018 Mercedes-AMG GT is expected to get a minor cosmetic refresh, as well as a hike in power.
Mercedes' Porsche 911 rival will get more power and a subtle styling refresh as the middle of its life cycle approaches
The 2018 updated Mercedes-AMG GT has been spotted completely undisguised long before its anticipated debut, showing minor tweaks to its styling.
Introduced in 2014, the GT coupé is now approaching the middle of its life cycle, so is due a refresh; tweaks to the front bumper are visible. Under-the-skin upgrades will be more apparent, though.
It's also expected to get more power in its standard form: up from 503bhp which the 4.0-litre turbocharged V8 gives currently, although the 603bhp of the Mercedes-AMG E 63 S may be reserved for punchier GT models.
That hot E-Class gets 563bhp in base form, so it's expected that the GT's figure will climb closer to this when it's facelifted. The E 63 has a wet sump engine, compared with the GT's dry sump, so the units aren't identical and therefore won't necessarily have the same power figure.
The GT didn't reach the UK until the end of 2014, so it's expected that the new model will break cover at the beginning of next year; a debut at the Geneva motor show is possible. Other variants are likely to be staggered across the following months, given the GT range's scattered schedule of variant debuts.
Read more:
2018 Mercedes-AMG Project One hypercar will cost £2.4 million
Mercedes-AMG GT C Coupé launched alongside updated GT and GT S
Source:: Autocar