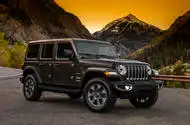 2018 model also previously exposed in a leaked user manual; new model drops 2.8-litre engine in exchange for 2.0-litre unit
The first official images of the new Jeep Wrangler have been released ahead of the machine's official launch at the Los Angeles motor show next month.
The images of the SUV were shown during a presentation by Mopar, the FCA Group's parts arm, at the SEMA show in Las Vegas.
The official images confirm that Jeep has kept the throwback styling of the Wrangler, with subtle tweaks to the headlights, grille and indicator cluster.
At SEMA, Mopar also displayed its full range of accessories and performance parts – more than 200 in total – that will be available from launch for the new Wrangler. According to Mopar boss Pietro Gorlier, more than 98% of Wranglers sold feature some form of customisation options, with the most popular options side steps and a noise-reducing headliner. While Mopar is focused on the US market, Gorlier noted that all of the performance parts would be available for Wrangler customers worldwide, as long as they meet local regulations.
Jeep did not reveal any further details about the Wrangler but a user manual, which leaked online earlier this month, has previously revealed some details about the machine's powertrain options.
Predictably, Jeep has chosen to keep the car's throwback styling, with subtle tweaks to the headlights, grille and indicator cluster refreshing the appearance of the 2018 model year car. The full manual was leaked onto a Wrangler fan forum.
Under the bonnet, there's either a 2.0-litre four-cylinder or 3.6-litre V6 engine; the current car's 2.8-litre powerplant has been dropped, at least from the US-specification car. The smaller engine has a 907kg (2000lb) towing capacity, while the 3.6 can pull a trailer of up to 1587kg. It also has a system designed to stop trailer snaking.
Inside, it's also similar to the current-generation car, although there's a choice between 7.0in and 8.4in infotainment displays. The larger of these has sat-nav, while both systems have climate controls integrated.
The screens can also display a host of off-road-focused information, including axle status, steering angle and the car's altitude, longitude and latitude. There is also a separate display for pitch and roll angles.
As well as adjustable electronic stability control, the new Wrangler will have automatic emergency braking and Rain Brake Support, which assists braking when wet weather is detected. Adaptive steering weighting is also available and can adapt to different driving conditions. More hardcore off-roading Rubicon models are more likely to get the advanced off-roading technology, however.
As with the current-generation Wrangler, the 2018 car will get both two and four-door variants. For the new generation, the windscreen can be folded down.
Read more:
New Jeep Wrangler to get hybrid and production hike to meet UK demand
2016 Jeep Wrangler recalled for fault that stops airbag deployment
2018 Jeep Wrangler could get pick-up variant
Source:: Autocar