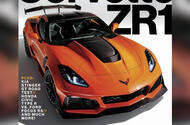 Supercar will be officially revealed at an event on 12 November; 6.2-litre supercharged V8 produces 750bhp
A picture of the 2018 Chevrolet Corvette ZR1 has leaked onto the internet ahead of its official debut on 12 November, showing the new hardcore supercar's full front styling.
The leaked magazine cover also states the car's power output as 750bhp, which is a 112bhp increase on the outgoing model.
With a 6.2-litre supercharged V8 under the bonnet, the new ZR1 directly targets the Ford Mustang-based Shelby GT500 and the Dodge Challenger Hellcat, although the car's lighter weight than the Challenger could bring its performance closer to that of the 840bhp Dodge Challenger SRT Demon.
No performance figures or torque were revealed on the leaked Car & Driver magazine cover, but the previous-generation, 2009 ZR1's 205mph top speed will likely be eclipsed by that of its successor, as will its 3.6sec 0-62mph time. Around 3.0sec is likely.
Chevrolet confirmed the car's reveal date in an Instagram video, along with a clip of the car revving and some typically unrevealing preview shots of its grille and carbonfibre bodywork.
The ZR1 will be the last front-engined Corvette. The Corvette C8, due after the ZR1 in 2019, will adopt a mid-engine layout. A prototype was recently spotted testing.
Read more:
2019 Chevrolet Corvette C8 – mid-engined supercar spotted testing
Video: Dodge Challenger Hellcat vs Porsche 911 Turbo S vs Nissan GT-R
840bhp Dodge Challenger SRT Demon spotted in narrow-body spec
Source:: Autocar