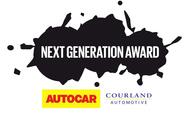 Aspiring young stars of the car industry could win £8000 and valuable work experience by coming up with a problem-solving idea or innovation
Applications for the tenth running of the Autocar Courland Next Generation Award, the competition which annually finds and nurtures bright new talent for the automotive industry, will close at the end of August.
The award, which was launched in 2009 by Autocar in partnership with Courland Automotive and the Society of Motor Manufacturers and Traders, challenges anyone aged between 17 and 25 to come up with an innovation or problem-solving idea that would improve the UK automotive industry. Entrants must reside in the UK or study at a UK school, college or university and must be eligible to work in the UK.
A team of industry judges assesses entrants ideas based on innovation, technical and commercial viability, and how easily the innovations can be implemented. On offer to the winner is a prize comprising £8000 and valuable industry work experience at Horiba Mira, Jaguar Land Rover, McLaren Automotive, Nissan and Toyota.
Past winners' ideas including an exhaust gas-driven power generator for downsized engines, as well as an energy capturing system combining photovoltic body panels on electric and hybrid vehicles to capture solar energy, and nanobattery storage cells located in carbonfibre panels to store the energy.
Autocar editor-in-chief and lead judge Steve Cropley said: «Year on year, the calibre of the entries we receive for this competition raises the bar higher.
"This award was set up to find, nurture and encourage bright new talent for the automotive industry and we're really proud of the way it continues to go from strength to strength.»
Read more about the Next Generation Award, and submit your application here. All entries must be received by 5pm on 31 August.
Source:: Autocar