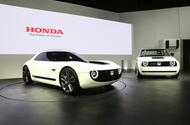 The Honda Sports EV and Urban EV concepts
Check out all of the news and updates from the industry's most diverse motor show, at the times in which it happened
The Tokyo motor show is regarded as one of the most diverse in the industry, encompassing the best of Japan's native car makers as well as its idiosyncratic car culture, with wild tuning cars, boxy kei cars and more.
The 45th edition of the biennial show is underway, and Autocar's team is on deck to bring you live coverage. At the show we have editorial director Jim Holder, editor Mark Tisshaw, news editor Rachel Burgess and staff writer Jimi Beckwith. Their coverage and that of our contributing writers can be found below with the local time (JST).
Tokyo motor show – the headlines
Honda Sports EV shows intent for future electric performance car
Mazda rotary engine to return as range-extending hybrid
Lexus LX+ concept illustrates autonomous tech due in 2020 flagship
Honda could launch successor to S2000
Yamaha Cross Hub Concept revealed
You can read all our stories from the 2017 Tokyo motor show here, and check out our latest analysis of the key events in Japan here.
Scroll down to to see a list of the key cars revealed at the Tokyo motor show.
1902: Japanese manufacturers are as anxious as anyone that Brexit goes smoothly. Mazda UK boss Jeremy Thomson said, referring to its 15% decrease in UK sales year-to-date this year, that the negative impact has been seen ever since the Brexit scenario started. He added that he's "very keen that the UK government forms a free trade agreement with Japan" to help ensure good business once Brexit is complete.
1832: Want to take a quick tour of the Tokyo motor show halls? Well, we've done the legwork for you in a handy video. And then handily sped it up, so it will take up even less of your precious time. Enjoy…
1817: Mitsubishi would have struggled to survive the switch to electrified, connected and autonomous cars on its own, according to executive vice president Mitsuhiko Yamashita. Not so now it is part of an alliance with Renault and Nissan. "Mitsubishi was a million car a year company, now it's part of a 10m a year group. Only with group structures can you develop this," he said. Read about the Mitsubishi e-Evolution SUV concept here.
1729: Some big breaking news from Hachigo, who refused to rule out the prospect of a new S2000 sports car. Apparently, it could depend on public enthusiasm. Go on, show how enthusiastic you are by checking out the full story here.
1720: Worried all electric cars will end up being homogenised with battery and electric motor technology? Honda boss Takahiro Hachigo reckons no more so than a car with a petrol engine, and believes the freedom of electric cars will allow manufacturers to create cars and «complete packages» even more diverse than rival offerings now. «It's about who can offer the most complete package to the consumer, that's the point,» he said.
1717: Mark Tisshaw has been off to heart from Honda boss Takahiro Hachigo – and there was some early chat about fuel cells. These provide the cleanest possible solution for future motoring according to Hachigo as they generate their own power on-board. To that end, Honda will not slow down its development of the technology, even if the infrastructure continues to lag.
1654: Mazda has long been linked to rotary engines, but the firm hasn't had a Wankel unit in production since it stopped making the RX-8 back in 2012. But that's going to change now – it's bring back the rotary as a range-extending hybrid. Check out the full story here.
1632: Although there's no official Aston Martin stand in Tokyo, Jim Holder notes that a DB11 resides on tyre partner Bridgestone's display and a delegation led by chief designer Marek Reichmann toured the show. Aston has long been popular with Japanese buyers, and boss and former Nissan bigwig Andy Palmer made sure to strengthen ties with the country when he took the helm of the firm.
1608: How quickly can you design a concept car? Around eight months if you're Yamaha's chief designer Jeung Hyun Choul and you don't have a prescribed platform or power train to work around. As such, the Cross Hub Concept is more conceptual than most, but even so it is a remarkably credible piece of work given the timeframes. "We got the brief to create a car that showed how Yamaha would do a car in January," he says. "Nobody said 'Build a pick-up with SUV looks' they just said 'Build a car that typifies Yamaha'. This is the result of some very intense work."
1547: Does Honda's factory in Swindon have a future post Brexit? Most definitely, according to CEO Takahiro Hachigo. On Brexit, he said: «We would like to see clear rules and conditions when Brexit happens. We do not think there will be a drastic change of strategy in the UK. Maybe – possibly – we'll make some small changes as part of an adjustment, but there's no plan to drastically change Honda's strategy.»
1508: Subaru's head of design, Mamoru Ishii, claims he had no inkling how his latest Viziv Performance concept car would be received prior to the Tokyo motor show, according to Jim Holder. "I was not certain how it would be received, but so far we have a lot of positive interest," he said. However, he denied he had the next-gen WRX in mind when he oversaw its creation, saying instead: "We just wanted to explore the future of performance for Subaru and provoke reaction that we can respond to. Whether the WRX or a similar car looks like this will be down to the reaction, not me."
1452: Mark Tisshaw has uncovered that the designer of the Honda Sports EV concept, Makoto Harada, won an internal competition ahead of 150 …read more
Source:: Autocar