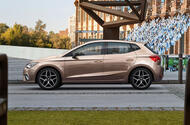 The sleeker, more technically advanced Ibiza will boost Seat's image, claims UK boss
The latest Seat Ibiza is the first car to be built on a new platform that's crucial to the success of future Volkswagen Group superminis and small SUVs.
For its fifth generation, the Ibiza gains a new design, a roomier interior and more kit to take the fight to tough supermini rivals such as the Volkswagen Polo, Vauxhall Corsa and recently revealed new Ford Fiesta.
The all-new Ibiza is likely to be priced from around £13,000, which would narrowly undercut the Fiesta's expected starting price, and UK sales will start in May, with showroom arrivals slated for July.
The Ibiza was the best-seller in Seat's range until very recently, when it was overtaken by the new Leon. It has shifted more than 5.4 million units worldwide, with an average of 18,000 a year in the UK since 2008. Those sales figures include three bodystyles — three-door, five-door and ST estate. However, the new Ibiza will be sold as a five-door only.
Traditionally, the three-door model has accounted for as much as 40% of the Ibiza's sales, but a downturn in sales in recent years has prompted Seat to offer the fifth-gen model as a five-door only, just as Renault has done with the Clio, Nissan with the Micra and Skoda with the Fabia.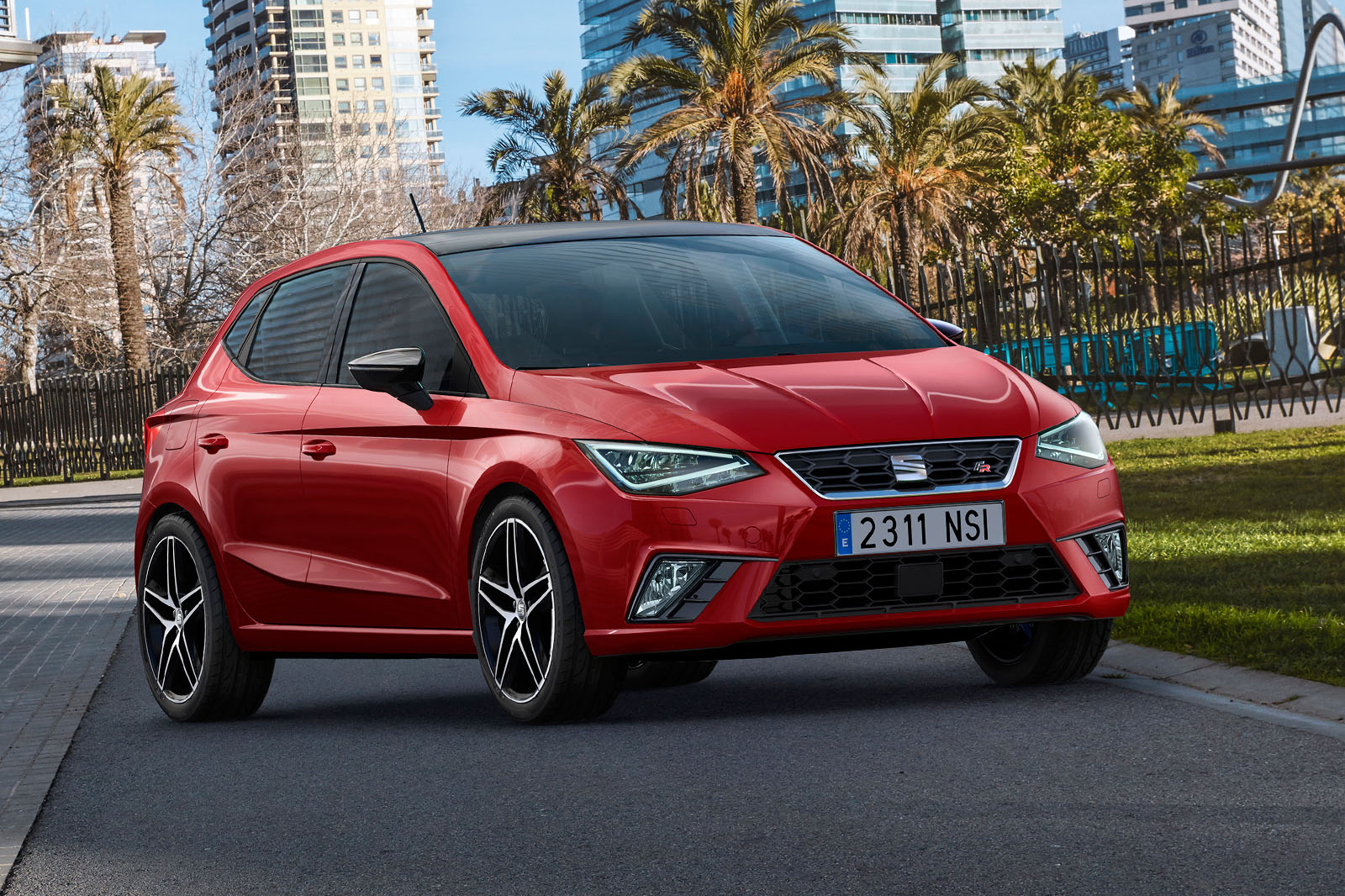 Also, there won't be estate version; that gap will be plugged by the Arona, the forthcoming Ibiza-based small SUV.
The Arona will share the Ibiza's VW Group MQB A0 platform, which is also expected to underpin the future Polo and Fabia. The architecture is said to be lightweight and capable of supporting different bodystyles within the same segment.
The new Ibiza is 87mm wider, 2mm shorter and 1mm lower than the model it replaces. The wheelbase is 95mm longer, which, Seat says, has enabled it to create a more spacious cabin. The boot volume has increased by 63 litres, giving it a total capacity of 355 litres.
Most engines will be carried over from the current line-up but there will be a new fourcylinder 148bhp 1.5 TSI petrol unit. The range will also include a three-cylinder 1.0-litre petrol engine and a 1.6-litre diesel.
A five-speed manual gearbox will be available with the lower-powered engines and a six-speed gearbox for the more powerful. A seven-speed dual-clutch DSG gearbox will be available as an option.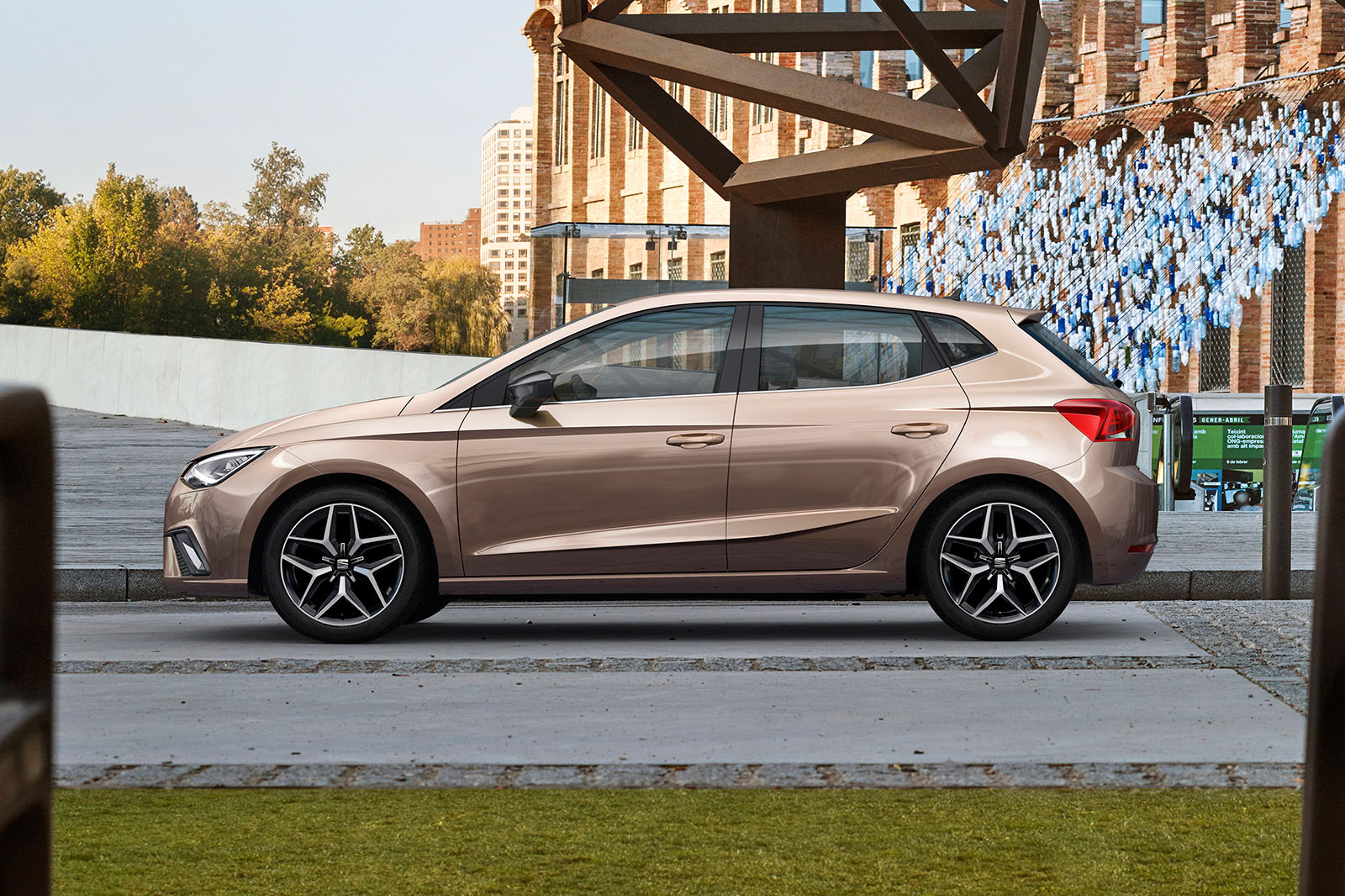 The new Ibiza will be offered with four trim levels — S, SE, FR and range-topping Xcellence — but the exact specification for each trim is still to be decided. Entry-level kit will include a 5.0in infotainment screen and autonomous emergency braking. A bigger 8.0in screen will be standard on FR and above and an option on SE.
Adaptive cruise control will also be available, along with front and rear cameras. FR and Xcellence Ibizas will have LED headlights and LED interior lights as standard. Further options will include a wireless smartphone charger, Apple CarPlay, Android Auto and MirrorLink.
Seat has also partnered with Beats on an upgraded audio sound system, but it's undecided if it will be used in a stand-alone special-edition model or offered as a trim.
FR-spec cars get stiffer suspension, twin exhausts and four drive modes. Although the outgoing Ibiza has a flagship performance-focused Cupra model, it is yet to be decided whether or not the fifth-gen car will get the Cupra treatment.
Hot superminis are popular in the UK but not globally, so Seat wants to see if there is an appropriate business case to create a Cupra version. If it does, Cupra models usually follow six to 12 months after the base model is launched.
The Ibiza will get its full global debut at the Geneva motor show in March.
: 2017 Seat Ibiza is «a huge change» says UK boss Richard Harrison
Source:: Autocar