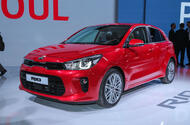 Five-door only model gets more striking design and higher-spec interior; first deliveries due next month
The all-new Kia Rio is on sale in Britain today priced from £11,995, with first deliveries due next month.
The 2017 model is only availabe as a five-door with an evolved design over the current car; the three-door version has been ditched due to lack of demand.
Highlights of the new Rio include its higher quality and more spacious interior, improved infotainment, a new lightweight three-cylinder engine and ride and handling that are claimed to be improved over the current model.
Trim and prices
Four trim levels are available at launch, named 1, 2, 3 and a limited-run First Edition. The entry price applies to grade 1 cars, which come with air-con, front electric windows, heated and electric folding door mirrors, as well as a 3.8in display screen with Bluetooth connectivity as standard. There's also automatic lights, stability control and hill-start assist technology.
Above this, 2 models start at £13,745 and gain things such as 15in alloy wheels, a DAB radio and larger 5in screen. Rio 3s start at £16,295 and add 16in alloys, a 7in screen, rain-sensing wipers, sat-nav and Apple Carplay/Android Auto to the mix.
Top of the range at launch is the First Edition. It gets 17in alloys, a smart key entry system, stainless steel pedals, black and red faux leather upholstery and LED rear lights. Prices for this start at £17,445.
Engine and gearbox
Headlining the engine range in the new Rio is a new three-cylinder 1.0-litre turbocharged unit, which is tipped to be the best seller. It's offered in 99bhp or 118bhp power outputs, with both engines producing the same 127lb ft of torque.
The engine's light weight should help improve handling, Kia claims. It produces 102g/km of CO2.
Two normally aspirated four-cylinder petrol engines – an 84bhp, 90lb ft 1.25-litre and a 99bhp, 97lb ft 1.4-litre – are also offered alongside a 1.4-litre turbodiesel with either 69bhp or 89bhp. The diesel will be the most economical Rio in the range and will have CO2 emissions of 92g/km.
The car will be manual-only at launch, with a five-speed gearbox on the 84bhp 1.25 and 99bhp 1.0 petrols and six-speeder used on all other versions.
Chassis
The new Rio has been given a 10mm increase in wheelbase to improve cabin space as part of a 15mm overall increase in length. The Rio is also slightly lower than before, while the width remains the same. Boot space has been increased from 288 litres to 325 litres, which eclipses key rivals including the Ford Fiesta, Vauxhall Corsa and Volkswagen Polo.
The car is built on an all-new platform, with MacPherson strut front suspension and a torsion beam at the rear. The bodyshell has been made stiffer than the existing Rio's, the suspension has been made more rigid, new dampers have been fitted, and there are revised spring and damper settings, all of which Kia claims leads to a more comfortable ride and "more agile and immediate handling".
Martins said that the Fiesta had been the benchmark for handling for the new Rio, and the Polo had been the benchmark for comfort.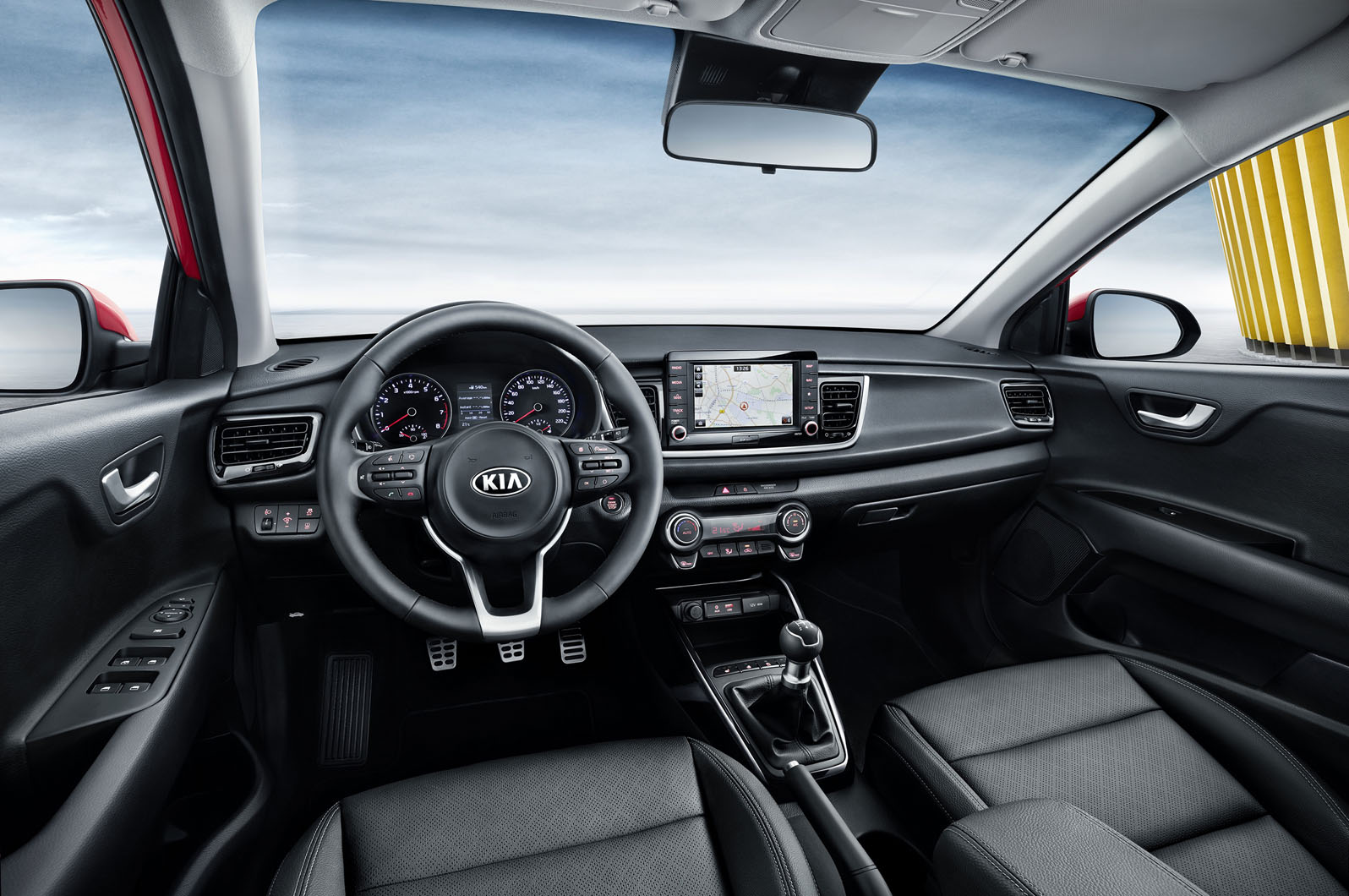 Design
Kia's European design chief Gregory Guillaume told Autocar that he wanted to give a "quality look" to the car.
"We trying to build on the momentum of the current generation with this new model," he said. "It was a big step from the old Rio to the current one; now we have a good base and it's a different step we're doing."
Guillaume said significant work had been done on the Rio's proportions to give it a cleaner, higher quality look.
"This has different proportions, it was more cab forward and wedge shaped before and looked ready to 'bounce'. Now we have more self-confidence, the cab is backwards, the bonnet is longer, and we emphasise the short rear overhang. It looks more stable and has a more solid look to it.
"We're trying to give a quality feel to the car. We're not premium, but we want to give as much quality as we can at the price point."
Guillaume confirmed there would be no three-door version of the new Rio, as demand for this version was dwindling across the whole industry. So Guillaume said Kia focused on designing a five-door Rio pitched at the heart of the segment and with wide appeal.
"We wanted to do a proper B-segment vehicle," he said. "Not too fashionable or trendy, a good product with style and a clean design. We spend the most time on proportions, not on loud, shouty elements."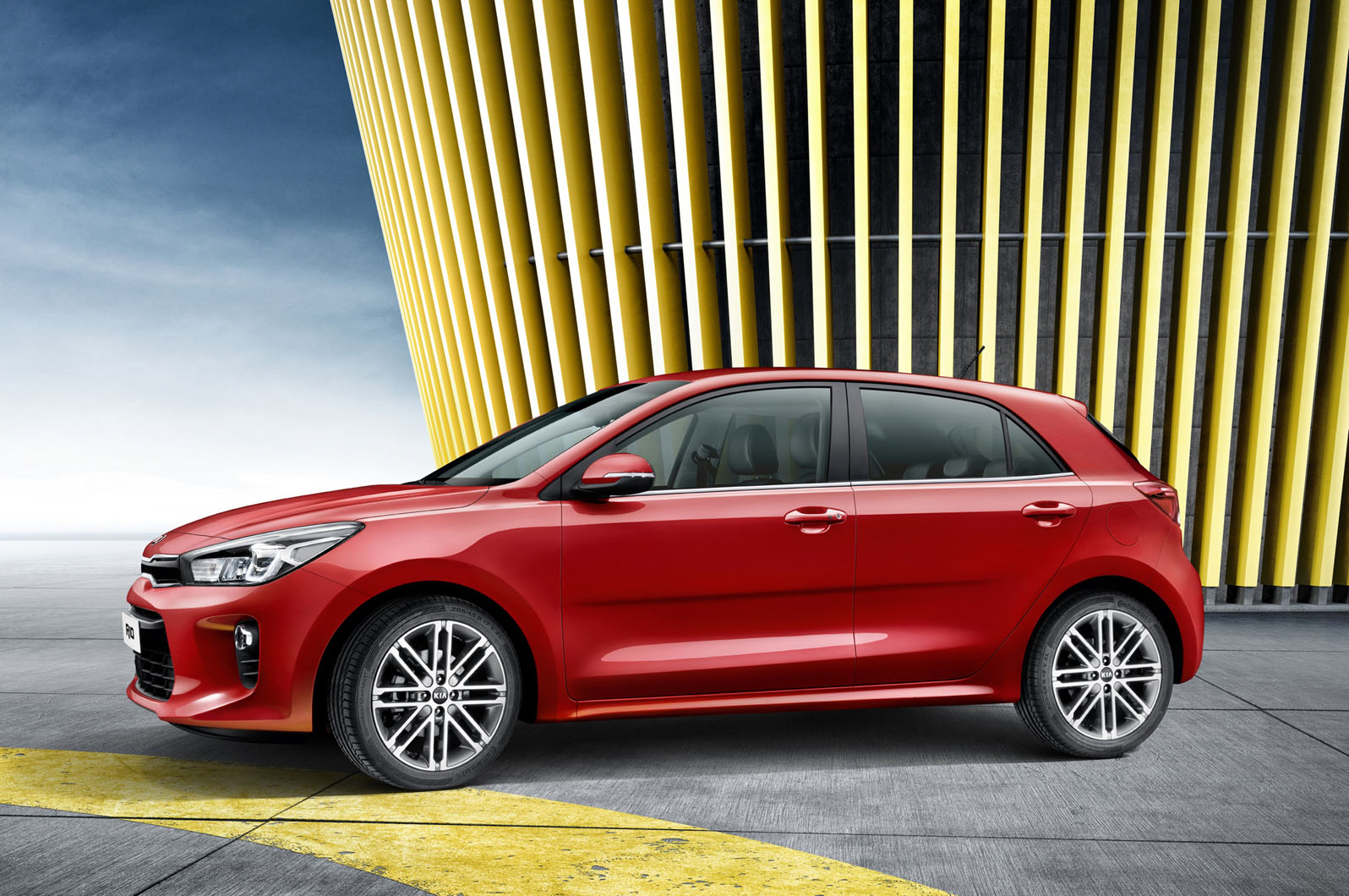 Technology
Kia has equipped the new Rio with a host of new safety equipment as part of a desire to achieve a five-star Euro NCAP safety rating, including autonomous emergency braking. The body is also largely made from high-strength steel to further improve safety. Martins said that buyers of city cars and superminis were "really concerned about safety so we put a lot of effort into this" in the new Rio.
The Rio is Kia's best-selling model globally, but it's only third in Europe where it's surpassed by the Sportage and Cee'd. Kia's European marketing chief Artur Martins told Autocar that the firm wants to go from selling 70,000 Rios a year in Europe to 100,000 per year.
"It's the biggest European segment, so presents an opportunity for growth for us," he said.
Kia's European chief operating officer Michael Cole described the fourth-generation Rio as a "step forward again" for the brand as it heads towards selling half a million cars a year in Europe by 2018. This year it should sell 430,000 cars, its eighth consecutive year of growth.
"The Rio has been sharpened, matured, has an improved interior and more technology," he told Autocar. "The car is a step up, a good step forward."
Read more:
Kia to launch a wave of hot GT models
Keep up with all the latest Paris motor show news, with all the latest reveals and details here
Source:: Autocar