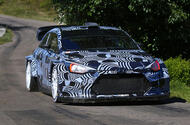 Aggressive-looking three-door rally hatch is a favourite for the title following Volkswagen's departure
The Hyundai i20 Coupe WRC has taken to gravel and tarmac already ahead of its entry into the 2017 World Rally Championship.
The car, which was revealed earlier this month at Italy's Monza racing circuit, is expected to be a front-running contender in next year's rejuvenated season. It replaces the now-retired i20 WRC.
The new three-door i20 Coupe WRC is described as a heavy evolution of the outgoing car, using the same basic structure as 2016's five-door i20 but conforming to the WRC's less restrictive engine and aerodynamic …read more
Source:: Autocar