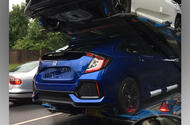 Autocar readers spot the Honda Civic testing and being transported on UK roads; styling closely follows that of the Civic concept revealed at the Geneva motor show
The 2017 Honda Civic has been spotted completely undisguised on a car transporter by an Autocar reader.
The transporter, which was carrying a number of Civics without any disguise, was spotted heading into Southampton by Autocar reader Nick Mortimer. This means the cars are likely to be heading for the US, given Southampton's role as a major UK export hub.
The full styling of the car is visible, with the familiar angular design …read more
Source:: Autocar