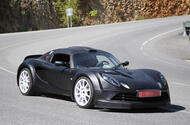 French firm confirms plans to launch its new model in 2016, as latest spy pictures show £50,000 sports car in testing
The new Renault Alpine is on course for a launch towards the end of next year at a price of around £50,000. Latest images show the car testing and reveal its interior for the first time.
The new French sports car will become a halo model for Renault, as well as kick-starting the revitalised Alpine brand.
The latest Alpine test mule, pictured here, wears modified Lotus Exige bodywork. It also features an electrical cut-off switch located where the Exige's fuel filler cap …read more
Source:: Autocar