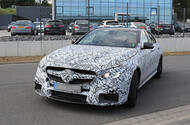 New hot E-Class could get as much as 600bhp from its twin-turbocharged V8 engine
The new Mercedes E63 AMG will have "the next step" in the development of Mercedes-AMG's 4.0-litre V8 engine, which means it will have "something in the range" of 600bhp, according to sources.
This is notably more power than that of the Mercedes-AMG GT sports car, which has 510bhp. The same engine is also set to appear in the upcoming Mercedes-AMG GT3, where engineers are said to be targetting a power output close to the E63's 600bhp.
This engine would put the E63 even further ahead of …read more
Source:: Autocar