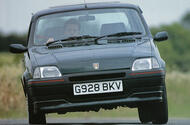 This zippy lightweight hatch flaunted a responsive engine and surprisingly good build quality
Walk into a Rover dealer back in 1990 with £9500 and you could drive away in a shiny new Rover Metro 16v GTi.
The new-for-'90 model replaced the MG Metro and sported a naturally aspirated K-series engine with twin-cams and a lively 95bhp. The little British hatchback went head-to-head with the likes of the Peugeot 205XS and Ford Fiesta 1.6S.
"Top speed is an impressive 113mph, but if you want a kick-in-the-back acceleration, look elsewhere," is an early comment in our 8th August 1990 road test. "Despite …read more
Source:: Autocar