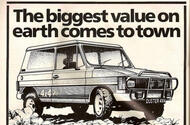 The latest-generation Dacia Duster is a triumph of value-for-money motoring, but the original version made a bus pass look tempting
In 2012 we tested the Dacia Duster, the bargain SUV from Renault's Romanian sub-brand.
We were mightily impressed by its seemingly impossible value for money – from just £8700, you could get "a good-looking compact SUV, with a spacious interior, that's cheaper than a Ford Fiesta".
In that same review we also mentioned that the original Duster, sold in the 1980s, was "an automotive excrescence so terrible it makes a bus pass look attractive». Ouch.
But were Autocar's road testers …read more
Source:: Autocar