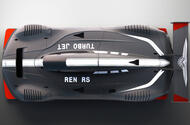 This is the first picture of the upcoming Techrules Ren RS
Chinese company has revealed a pared-back version of last year's diesel-turbine electric supercar with just one seat
A track-only version of the 1287bhp Techrules Ren diesel-turbine electric supercar has been previewed in a new official image ahead of its debut at the Geneva motor show.
The pared-back version of the Chinese company's 2017 supercar is called the Ren RS. It has been developed with weight-saving as a priority; all non-essential parts, including its passenger seat, have been ditched.
Techrules is yet to reveal how much weight has been saved, but the standard Ren (pictured below) weighed 1700kg, enough to give it a power-to-weight ratio of 757bhp per tonne. That's 26bhp per tonne more than the Bugatti Chiron, even in standard form.
Top 10 best electric hatchbacks
Like the standard Ren, the Ren RS has Techrules' Turbine-Recharging Electric Vehicle (TREV) powertrain to keep up to six electric motors spinning. Together, these produce the car's 1287bhp headline figure, enabling a claimed 0-62mph sprint time of 3.0sec and a top speed of 205mph.
Techrules' patented TREV system places two motors at the front of the car and four at the rear, with power supplied by a 28kWh battery pack that's kept energised by a diesel-fuelled turbine. This powertrain is said to allow a range of 727 miles from 80 litres of diesel.
Techrules is also offering the Ren RS in lighter four-motor configuration, offering 858bhp and 1150lb ft. The RS is not available with the lowest power two-motor set-up offered on the regular Ren.
The Ren's motors can be charged to 80% in 15 minutes using a DC fast charger. Techrules is targeting a battery lifespan of 100,000 cycles. Diesel is the most efficient fuel, but the Ren is also able to run on gaseous fuels, suggesting the Ren RS will be able to as well.
The Ren RS retains the regular car's canopy opening, but its single-seat layout allows for the use of a slimmer, more aerodynamic cover. Inside, there's a motorsport-specification rollcage, while the bodywork is carbonfibre.
Vauxhall Corsa EV to be launched in 2019
The car sits on race-inspired in-board, horizontally mounted, three-way adjustable pushrod wishbones. Braking is handled by carbon-ceramic discs and six-piston AP racing calipers.
Techrules had the Ren designed by Italdesign founder Giorgetto Giugiaro and his son Fabrizio. The model was engineered by engineering and production specialist LM Gianetti and will be produced in Italy.
Techrules is yet to reveal pricing for the Ren RS, but a figure of around £2.2 million is expected. There's also no new word on production numbers, but last year the company said it was planning to produce 96 examples of its 'first track model'.
More content:
Byton electric SUV to feature level four autonomous tech
McLaren EV test car highlights challenges of electric supercar
Source:: Autocar