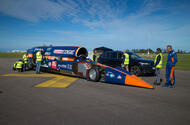 Bloodhound will next be driven to more than 600mph in 2018; 1000mph attempt due in 2020
The Bloodhound SSC, Britain's 1000mph world land speed record challenger, has successfully been driven to more than 200mph at Newquay Airport as first part of its first phase of testing.
The test, which can be watched as a replay in the video below, saw the world's fastest man of the past 20 years, Wing Commander Andy Green, at the wheel for the first time.
Stream provided by Bloodhound SSC
Green and his team ran the jet and rocket-powered car up to and beyond 200mph, using its EJ200 Eurofighter engine on the Cornish airport's main runway and pushing it to maximum reheat – or afterburner – phase. The two runs, each of which will saw the car accelerate from zero to 200mph in just under 1300 metres, have been used to evaluate the car's steering, brakes, suspension and data systems, while also measuring the efficiency of the air intake that feeds the EJ200 jet engine, sourced from a Eurofighter Typhoon.
Now that the tests on Newquay's 1.7-mile runway have been completed, the Bloodhound team plans to ship the vehicle to a specially prepared track for the first of two high-speed campaigns in 2018. The team intends to use the 11-mile track at Hakskeen Pan in north-western South Africa, but told Autocar that it would be open to use another location, should any new sponsors request it. For this run, the car will be driven to more than 600mph.
If this second test goes successfully, backers hope to top 800mph in 2019 at Hakskeen Pan, beating Green's previous mark (set 20 years earlier, on 15 October 1997, in Thrust SSC) of 763.065mph. To do this, the car's jet-rocket will need to produce 13 tons of thrust – four more than was needed in today's 200mph run.
Then, in 2020, the Bloodhound crew will add extra rocket motors for an attempt to set a 1000mph land speed record – the project's ultimate objective. Green told Autocar that the thrust for this run will reach 20 tons, which is equal to the power all nine RAF Red Arrows Hawk aircraft produce when combined or 180 Formula 1 cars.
Bloodhound's engineers may makes some technical changes to the car before the final run. One option is to switch the car's Jaguar-sourced 5.0-litre V8 engine 'fuel pump', which pumps a ton of fuel per 18 seconds, for an electric drivetrain. Using electric power was the original plan when the Bloodhound project was opened nine years ago, but battery technology was said not to be advanced enough to meet the car's needs.
Now, with Geely, owner of Volvo and that brand's Polestar electric car division, on board as a title sponsor, it would seem the chances of securing an electric drivetrain powerful and durable enough for the high speed runs are much greater. The electronic components of the recently revealed 592bhp Polestar 1 could serve as an effective technical starting point – although no insiders have suggested such a plan will take place at this stage.
For the first tests, the car was equipped with carbon disc brakes and wheels with Dunlop rubber tyres from an English Electric Lightning fighter aircraft, but for the higher-speed runs – during which the wheels will turn at up to 10,200rpm, or 170 times per second – it will have solid aluminium wheels, because rubber tyres would not hold together. At that speed, said chief engineer Mark Chapman, a 1kg bag of sugar would weigh 50 tonnes. When Bloodhound's full power is deployed, the car is designed to go from 0-60mph in less than a second, reaching 1000mph in 55sec.
Today's run showed the Bloodhound crew that their jet engine can be pushed to maximum reheat earlier than previously expected. Chapman explained earlier this year that «jet engine intakes are designed to work best at speed, and there's a threshold at which they can accept full throttle». The team now know that they can go for full throttle from a lower speed, and the result saw the car hit 200mph in just 8secs, a second quicker than previously thought possible.
For Bloodhound to achieve its ultimate goal, marketing director Ewen Honeyman – a man with vast marketing experience including a stint in Formula 1 – told Autocar that around £30 million of additional funding would be needed, which is about equal to the spend total so far. The project is about to announce four new sponsors: Cooper Tires, engineering company Renishaw, the Belstaff clothing company and IT firm Oracle.
Project director Richard Noble, himself a former land speed record holder, called the Newquay runway trials "the biggest milestone in the history of the project so far", because they've provided the team with their first opportunity to rehearse the procedures that will be used for Bloodhound's serious record runs.
Noble said the Bloodhound team also see the runway trials as a way of thanking the schools, students, families and companies that have supported their project, which stalled for almost a year due to a shortage of finance until Chinese car maker Geely – owner of Volvo, the London Taxi Company and now Lotus and Proton – agreed to become Bloodhound's "lead partner" and finance the 1000mph project to its conclusion. .
Read more:
Source:: Autocar